Location:
Sydney, Australia
Favourite Item:
IHSH-33
This is not an easy call to make. Special shout out to
IH-634S
— my gateway to the Iron Heart Lifestyle. After 3 months of logically and emotionally trying to reach a single favourite, I think I've made it. For now, at least.
IHSH-33 is my second skin. As soon as I'm home from work for 9+ months of the year, it's on. A whole year after purchase of near daily wear and it's just starting to show it's true character. There is no rotation here, it is The One. I know IHSH-33 is true quality. Only well made things endure, perfectly made items, like IHSH-33 become an extension of self.
The weighting of the 33 makes it possible to wear nearly year round down here. Overcoat in Spring/Summer, and done up in Fall/Winter. Due to being all-seasons different parts of it have evolved differently. And it's these textures and the range of differences between them that seals the IHSH-33 as my favourite rugged wear.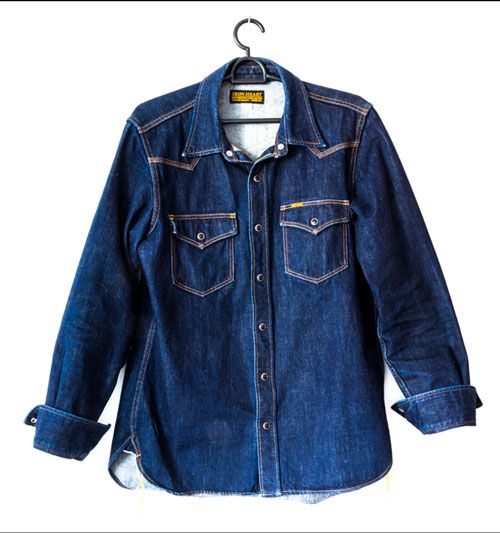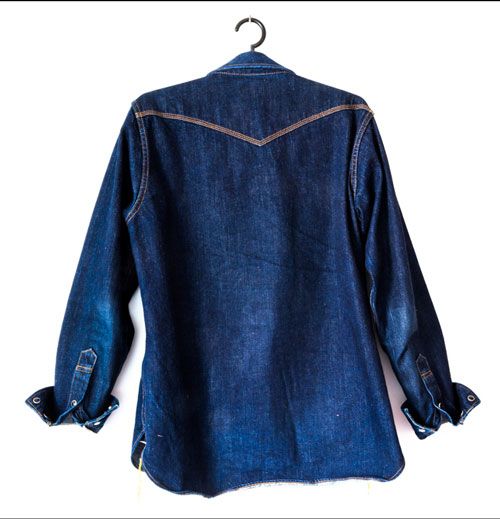 Location:
Germany
Favorite Item:
IHSH-76 & IH-Geo
Why it is my favorite:
This is by no means an easy call to make, since there are so many classic items in the Iron Heart portfolio. I could have gone the easy way long ago and chosen an item that has been around for years, like the IH-634S. The IH signature cut made out of the IH famous 21oz denim, an homage in Haraki's style to the cut that is worn by generations around the globe.
I decided to go for the IHSH-76, a 2013 release denim shirt. Presented in the ever popular western style, but twisted Haraki style; with side pockets, classic copper snaps and made out of a boom 17oz denim, all in IH fashion of craftsmanship. An item that for some might sound nuts: a shirt in 17oz denim, sure…!! For me it has proven to be a prime example about what Iron Heart denim is all about; pushing limits, but without compromising usability or wearability. Made with understanding, dedication and crafted with pride to last you for a very long time. And to give you any opportunity to let your life fade over time into this beautiful garment...
Location:
Saarland, Germany
Favorite Item:
IHSH-20 & IH-Geo duck
Why it is my favorite:
Well as I first got into Iron Heart - at the beginning of 2011 - i signed up to an awesome forum, browsed the different threads and always came back to the one called "IHSH-20 Heavy Western Flannel"!
So after several months of looking at an - by that time - already extinct item, I finally was able to track down actually two at the same time...so today I have to say, owning two IH-classics is really something special to me and you can be damn sure that these won´t ever leave my closet again...
The IH-Geo is a very special bracelet and an homage to a very special person. when I put it on, it always brings back great memories which put a smile on my face, day after day. I´m wearing it every day and it's the first thing i put on in the morning and the last thing i take off before going to bed...
Location:
Ottawa - Canada and Philadelphia - USA
Favorite Item:
IHW-01
Why it is my favorite:
I spent many years of my life seeing clothing enter and leave my wardrobe, but the only garments that seemed to persist where those classic pieces I was able to sneak out of my grandfather's (and now my father's) closets. This started around the time I was 12, and I still have my grandfather's shirts almost 15 years later. I suppose the reason I have grown so attached to Iron Heart, and the IHW-01 in particular, is because of that that classic feel and look. The IHW-01 could be found in my grandfather's closet, as well as mine. To me, this is where Iron Heart really succeeds. Iron Heart garments truly stand the test of time, both stylistically and physically. No nonsense. No clich?s. Just the best garments you can buy...for a lifetime.
Location:
NYC by way of SFC - USA
Favorite Item:
IH-Indecision
Why it is my favorite:
Because Love comes in so many different forms.
Location:
Bordeaux, France
Favorite Item:
IH-634S-RAW
Why it is my favorite:
The first time I handled this pair, I was fascinated. The moment I tried it, I was overwhelmed. The fabric and construction are top notch, you will understand why Iron Heart last for life. The cutting is so versatile that it matches any of my shoes and boots, shirts and t-shirts... Giving me no reason not to wear them everyday, year after year.
Location:
Westbury, New York
Favorite Item:
IH-666Sod - Devils Fit Overdyed
Why it is my favorite:
Well I have been interested in raw denim for quite some time. I have tried a ton - I mean a TON of brands, but none that I have ever owned could meet the expectations or standards of what this denim brings. The OD is truly something else for me and because I am a smaller guy I was able to fit quite comfortably in the 666 cut. It has become the staple part of my wardrobe right now, and it really seems to look quite nice with wear. If I were able to purchase these again, would I? Of course! I would also recommend these to anyone who is debating on getting these versus another pair of jeans. I might even get another pair of these because I love them so much.
Location:
Nottinghamshire, England
Favorite Item:
Megatron - IHXB01XRAW and IHM-01. ???Minitron - IH-666S and IHTB-02
Why they are our favorite pieces:
Mega - The raw 18oz denim of the Busters is so comfortable and heavy, and evolves as beautifully as any other denim that I have ever seen, the construction is also second to none. I had been looking out for a quality deck jacket for a while, and the IHM-01 is the most comfortable, functional, and well made N-1 type jacket around in my opinion. Warm enough to carry you through most weathers, comfortable to wear every day, and will last me for many winters to come
Mini - Like Mega, I love the quality and toughness of the raw 18oz denim, and the cut of the 666 Devils Fit is perfect for me. The IHTB-02 is as light as a tee shirt, yet as warm as a sweater, and versatile enough to wear on most occasions, even rock climbing
Location:
San Francisco Bay Area
Favorite Item:
IHF-SP and IH-634S - Forum Sweat Hoody and Indigo Straight Cut
Why it is my favorite:
These 2 items I would say are my most favorite items I own, the quality and craftsmanship is top notch, the thickness of the Sweat and the "Stubborn" qualities of the 634S.....
Location:
San Francisco Bay Area
Favorite Item:
DC4001 - Indigo Slim Straight Selvedge
Why it is my favorite:
Everyone deserves at least one quality clothing item. I am especially impressed with the tactile finish of the 21oz selvedge denim and attention to details on the DC4001. You could say an Epicurean wisdom applies to wearing quality IH clothing: ?Enjoy your clothing and you enjoy life.?
Location:
Tokyo
Favorite Item:
IH-801 - Cotton Duck Loggers
Why it is my favorite:
????????????????????????? ????????
"I love the color and the fit and of course because I look good in them!" - Giles edit: and we agree
Location:
North Wales
Favorite Item:
IH-666S - The Devil's Fit
Why it is my favorite piece:
It has to be the Devil's Fit, well for me anyway. Been into bikes and rock n roll from as far back as I can remember, and have always been a jeans and t-shirt type of guy. Since finding Iron Heart, my journey to find the perfect accompaniment to my biker/rock n roll lifestyle is complete. The jeans are rugged, but fit is spot on, specially when out on the bike, and soon the miles and memories are going to get more visible and pronounced in the jeans, as is my lifestyle.
Location:
Hamburg, Germany
Favorite Item:
IHSH-08 and IH-634S-B
Why they are my favorite pieces:
Besides the heavy weight and the top notch quality I love the overdyed structure in these jeans. Their apperance changes depending on the lighting and they fade in a very subtle and beautiful way. And despite their heavy weight, they're my most comfortable pair.
The 16 oz Superblack Shirt is another story: it's stiff and sturdy and makes you feel like you're wearing armour. And it's not unusal, that people ask me about that special shirt - with a hint of awe. And, my beloved grandma, told me, that shirt made me look aristocratic and sophisticated. Need I say more?
Location:
Indonesia
Favorite Item:
IH-301S & IHSH-25
Why they are my favorite pieces:
There's nothing much to say, not only do I adore this product, i'm also proud of it. Its solid toughness makes me feel tough in my car with Iron Heart theme. Thanks to the toughest and strongest jeans in the world, IRON HEART!!
Location:
NY/MD - USA
Favorite Item:
SEXIH07 Indigo
Why they are my favorite pieces:
The last five years of my life have been...interesting...and at a time of my life when I'm choosing to slow down, I've learned that the program you sign up for isn't always the one you're in. I need to know my gear won't fail on me
Location:
Southern California - USA
Favorite Item:
IHSH-32 - Ultra Heavy Weight Western & IHxB01 - Beatle Busters
Why they are my favorite pieces:
These two are what I reach for almost every day. The Ultra Heavy Weight Western and the Busters epitomize what I find great about Iron Heart: super heavy, yet super comfortable and functional enough to wear on a daily basis. Truly one of a kind, Designed for Life.
Location:
?urope
Favorite Item:
IH-2527J - Cotton Duck Rider's Jacket
Why they are my favorite pieces:
Why: very few made in this 21 oz duck material... Hard yet comfy as hell. This Iron Heart piece is only for those with matching balls of steel, as everyone will hate you for having one...
Location:
Seattle, Washington
Favorite Item:
IH-MW - Medium Cordovan Wallet
Why they are my favorite pieces:
I may have only just turned 18. But that doesn?t mean I don?t know quality when I see it. The Iron Heart ethos embodies this particular piece, rugged, heavy, and of the highest quality. I may have had to scrape together for a while to purchase it. But it was well worth every penny.
Location:
Northern California, USA
Favorite Item:
IHSH-11 & IH-1634
Why they are my favorite pieces:
These two pieces really sealed the deal for me in my love and obsession for Iron Heart. I?ve seen and had thick and heavy garments, but not to these specs and detail. All other brands pale in comparison. You bet when I ride I?ll have Iron Heart gear on!
Keep on keepin? on?????
Location:
Portsmouth, Virginia
Favorite Item:
IHSH 7, 32, 34 and IH9526V
Why they are my favorite pieces:
Hands down, the best pieces of clothing I have EVER spent money on! It's like someone who knows me went out of their way and designed me the clothes that were meant for my lifestyle and attitude. My IH952V paired with any of my IH shirts is the perfect everyday combo for everything I do. All of my non-IH clothes pale in comparison to the quality, construction and durability of Iron Heart!
Location:
Glasgow, Scotland
Favorite Item:
IH-634S & IHSH-32
Why they are my favorite pieces:
The notion of design has become conveniently broad to embrace unconstrained hubris. I believe the essence of design only requires content, with purpose and intent. Deliver that, with passion and skill will result in the most elegant solution ? all at once becoming covetable but functional, sophisticated but simple. The 634?s are all of this ? the detail of every single aspect has been refined to become the perfect jeans. The shirt merely echoes what is obvious in the jeans ? a rugged and beautiful garment that works at every level. Wearing these makes me ironclad.
Bonus pic - with IHJ-06 in Light Brown
Location:
Chemnitz, Germany
Favorite Item:
IHXB01
Why is it my favorite piece:
Nothing is harder than picking your actual favorite piece of clothing when it comes to Iron Heart, because they are all pretty much perfect.
Thanks to Giles and Haraki-San I was given the opportunity to design a pair of Iron Hearts - with all the details that I thought might come handy on a pair of 5 pocket jeans, and with a cut that holds up whilst shoveling snow or having a fancy drink in a bar.
So yes, the IHXB01 - aka The Beatle Buster is definitely my favorite rugged wear - throw on a Extra Heavy Flannel and you're good to go.
Location:
Bristol, UK
Favorite Item:
IHSH-08
Why is it my favorite piece:
It's pure quality, an antidote to the endless high street dreck. It's also kind of like a secret handshake, the opposite of, and superior to, the gauche hyper brands.
tectonic folds,
inky armoured torso,
my personal eyrie.
Location:
Malibu
Favorite Item:
IHSH-11 (all of them)
Why is it my favorite piece:
Super Heavy Weight Western Flannel, the name said it all. My "Desert Island" wardrobe pick. Simply the softest most overbuilt flannel to date. Nothing exceeds quite like excess, therefore I had to have all three colorways, the TRIFECTA.
Location:
Eastern PA, USA
Favorite Items:
IH-634S & IHSH-24
Why they are my favorite pieces:
The jeans. Bought on a whim. I demanded something of the highest caliber. These continue to make all other jeans leap from their proverbial bridges. This beast of denim beckons to be worn. It whispers to me from its cushy lair within my room. The ultimate. The shirt. Breathable. Beautiful. Versatile. I have worn this more than any other shirt in my wardrobe. This is a light flannel made to perfection. When the summer days begin to wane it becomes a great piece to layer. When worn in tandem, these two behemoths of rugged wear make me feel like someone with a purpose in life.
Location:
Northern California, USA
Favorite Items:
IHSH-12/634S Combo
Why they are my favorite pieces:
I don't wear these clothes to feel like a biker or a logger, or look cool or fit in. I wear them because they have soul. Every time I put them on I can literally feel the integrity and magic that went into making them. I respect the pride of craftsmanship and dedication it takes to produce things of this quality and durability. This is my go to outfit that I wear almost daily. A brown 2008 Ombre flannel and a pair of 634S. I wear this when chopping firewood or going out to dinner and anything in between. It has become a part of me and the experience of wearing them only gains richness and depth as more time passes...
Location:
Gosport, England
Favorite Item:
IH-526J.
Why it is my favorite piece:
I got this jacket in my first ever shipment from Haraki-san about 5 or 6 years ago. In those days, there were very few Iron Heart tops made, thus I had the luxury of wearing the hell out of it and not fretting about what else I was not wearing. I gave this some serious grief over the years, it was on my back every day for 12 months when we rebuilt this house. I love the way it looks. And it's probably got another good 15 years in it.
Location:
Tokyo, Japan
Favorite Item:
IH-634S. It's best of all to me.
Why it is my favorite piece:
This is a first ever pair of jeans that I made for myself in my entire 25 years of experience in Denim industry. The cut, fabric and every part of this jeans are selected and designed with my passion to make my ideal pair. So I have a special feeling for this model.