Show Posts
This section allows you to view all posts made by this member. Note that you can only see posts made in areas you currently have access to.
Topics - 7tacos
Pages: [1]
1
« on: September 13, 2020, 04:26:27 am »
$500-The Black Acre x Good Art Hlywd custom wallet, hardly used-6 inches long, larger mid sized wallet:
$500-Manifold, includes the belt and key clip and the leash. Excellent condition with mild wear. I always thought Manifold makes the best most functional key clip on the market.
2
« on: December 25, 2018, 12:25:25 am »
IHJ-07 New, $150. Size large.
lined windbreaker, brown.
Never worn or washed.
Link to measurements and info:https://www.ironheart.co.uk/extinct/ihj-07.html
Heavy cargos sold
3
« on: December 24, 2018, 11:00:49 pm »
Moved to Southern California where it's a little warmer a few years ago. A lot of old school IH from boxes in storage. Most never worn larger sizes that I never got around to hemming and getting any wear out of. Now, I'm a smaller size so it's time to sell some off, especially the warmer gear. I have 2 of a lot of things.
Shipping from San Diego California. Charging actual shipping and I can only ship once a week. Keep your PayPal fees to yourself please.
PM me with questions. I'll try and get back soonish.
IHJ- heavy navy duck/blanket lined XL. Never worn $350 I'll post more info on this one. Killer cut on this build.
2 IHSHs Both NEW XL
No wears or washes
I have so many IHSH-20s, I never wore these. Sticking to the 20s....$275 each. Black fits trimmer and is the first run of the shirt from about 5 years ago. The red fits pretty standard but is one is about.5 inch roomier than my 20s. Message for measurements if you're interested.
IHSH XXL heavy work shirt...Trade for an XL if anyone's got one, otherwise can use as over shirt...One wash old.
IHSH-106 NEw XXXL
gone
lined heavy brown chambray. fits more like an XXL. Feels like the same narley chambray as the old ihsh-16s. Shorting the sleeves an inch and keeping for use as a jacket if no interest. Hell it even has pockets. 24 p2p, 23.5 opening, 27 sleeves, 19.75 shoulders.
New-#2 available
IHSH-106 NEW XXL $340 I had 2, I sold one and am selling the second totally unworn. Glad to keep because it's cold and I dig the pockets. I have the old lined 17s I like. Not really needed but I really like it.
Good Art Hlywd Frisco balls and Jimmy
SOLD
Have 2, selling the extra. (Bear link, clip 8, Friscoballs #1 aren't for sell)
IH-526J New XL/42 $350–New with tags.
Indigo 21oz Selvedge Denim Type III I have two of these. Selling my new backup. Keeping my old one.
IH-801 brown 17oz duck size 36 — well worn/unhemmed $
150
. $140 Plenty of life with no issues. Probably 5 washes.
IH-634SR size 36. New $325
21/23OZ 5 Year Anniversary straight cut. Extinct. I own and wear these in a 34. Link for info and measurements:
https://www.ironheart.co.uk/extinct/ih-634sr.html
IH Works size 38 FREE (I mean, unless you're a punk 🖕🏾...)
IHW-02 CPO $250 XL
This is the first generation IH CPO
sold
IHSH-35 (
withdrawn
) herringbone work Shirt XL extinct. NEW I have two, selling my extra which is new and never worn. A couple of loose buttons from the stitching, a problem that effected that particular run.
$185
Info and measurements:
https://www.ironheart.co.uk/extinct/ihsh-35.html
IHV-04GR Work Vest. XL New
$215
$200. 21oz grey denim on front 17oz black duck at back
Never worn or washed. Extinct
Link to info and measurements:
https://www.ironheart.co.uk/extinct/ihv-04.html
IH-9526V $225
Superblack 21oz Denim Type III Vest. XL Worn only a couple of times. Never washed.
Info and measurements:https://www.ironheart.co.uk/vests/ih-9526v.html
IH-9461Z $240
Superblack 21oz Boot Cut, size 36.
Never worn, hemmed or washed. I own and wear in 34.
IHJ-15 $245 Extinct XL, kinda warm for Southern California. Only a couple of wears. Killer jacket. Keeping if I move the new lined flannel. Most functional jacket IH had built IMO.
Pending
Available
NEW IH-705 $340
Ultra heavy selvage serge cargo pants. Extinct size 36. Love the 36 fit. Love these. Have plenty.
Link to information and measurements:https://www.ironheart.co.uk/extinct/ih-705.html
I H-705 $340
Ultra heavy selvage serge cargo pants. NEW Extinct size 34. I have few of these. Totally cool with keeping if no interest. Best cut IH did along with the SRs.
IH-801 DD
$210
$195 NEW
Double Indigo Duck 17oz Logger pants, size 36. Orange constructional thread. Never worn, hemmed or washed. Brand new with tags removed.
IH-801 $
190
$175 NEW
Non-selvage 16oz denim. Only tried on. Orange constructional thread.
IH-526J IHUK Over dyed version, first run XXL/46 $250
Well worn but in great shape. Too damn big for me now. I'll post some measurements.
4
« on: November 09, 2018, 08:16:26 pm »
$300 for SRs and $250 for the CPO.
CPO was never worn more than once or twice. 1st gen CPO.
5
« on: June 26, 2013, 03:25:10 am »
634-XHS, 634S, Busters OD, DC4002, TW

I'm now a size 34 and am clearing out my larger sizes.
Open to trades XL jackets and sz 34 IH jeans.
634-XHS $375 $325

One soak to get the starch out, and one hand wash. About 10 wears and in very good, almost new condition. No shrinkage
Waist 36
Front Rise 11.4
Rear Rise 16.8
Thigh 13.6
Knee 9.8
Hem 34.5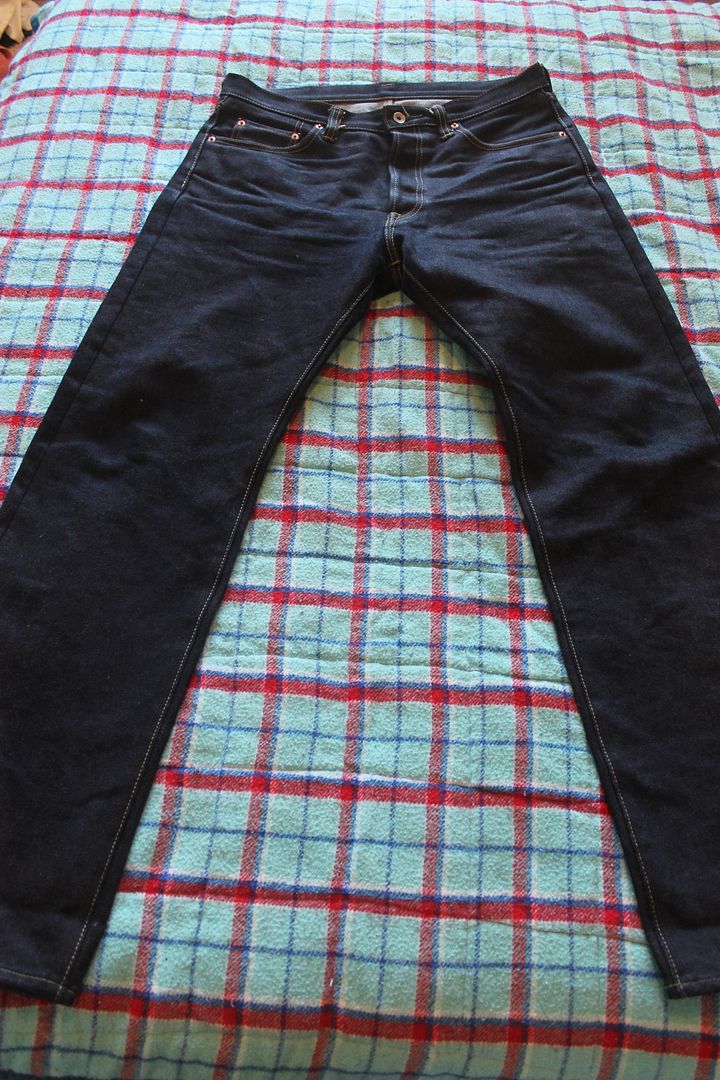 634s $275 $225

Almost new. No shrinkage
Waist 36
Front Rise 11.3
Rear Rise 15.5
Thigh 13.5
Knee 9.8
Hem 33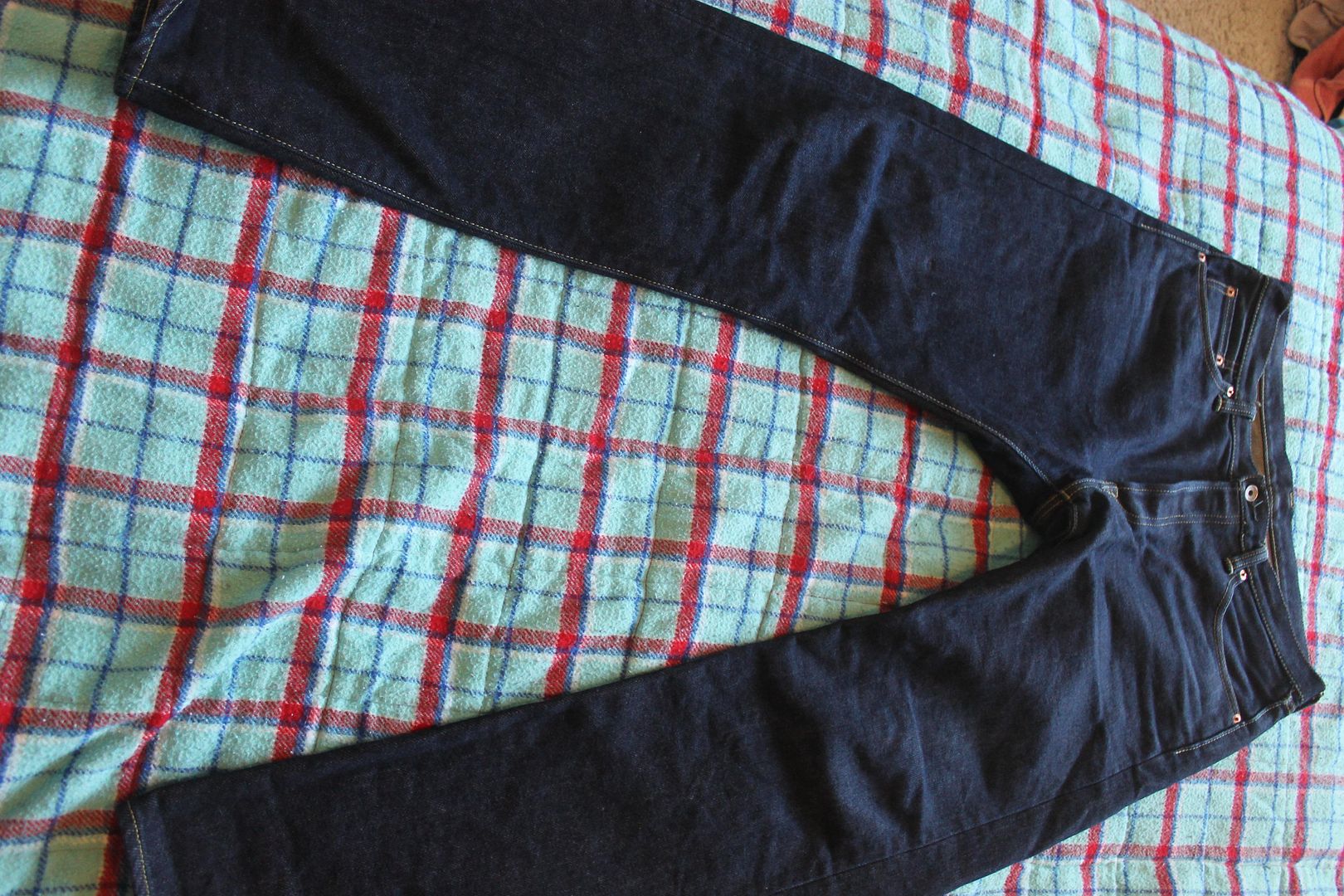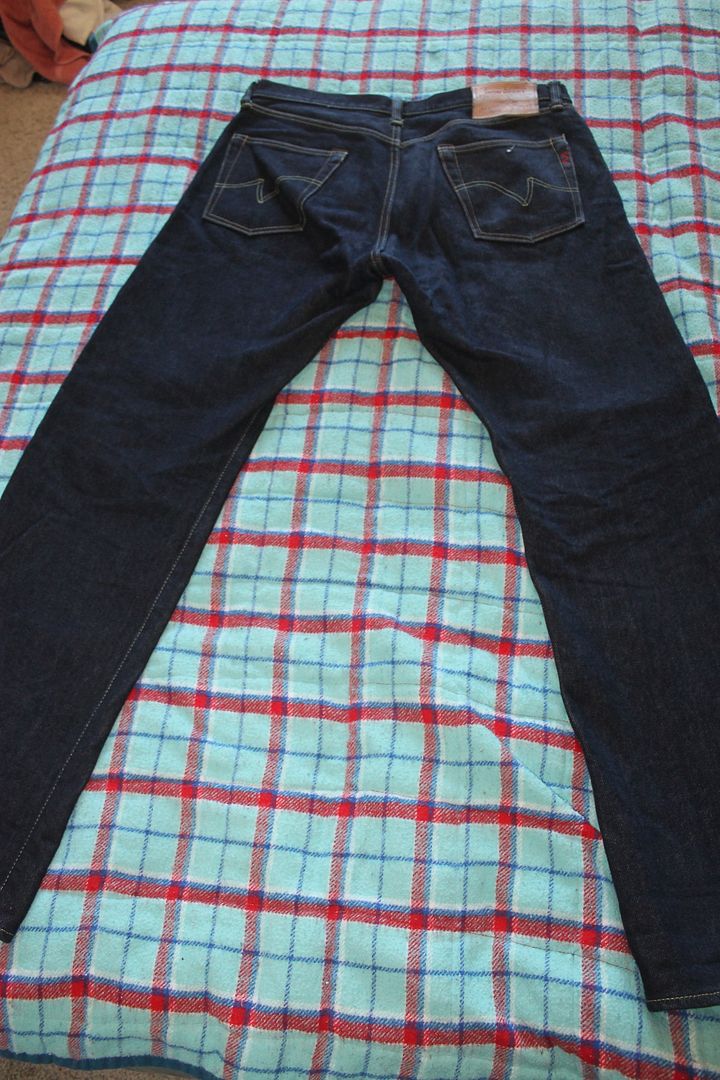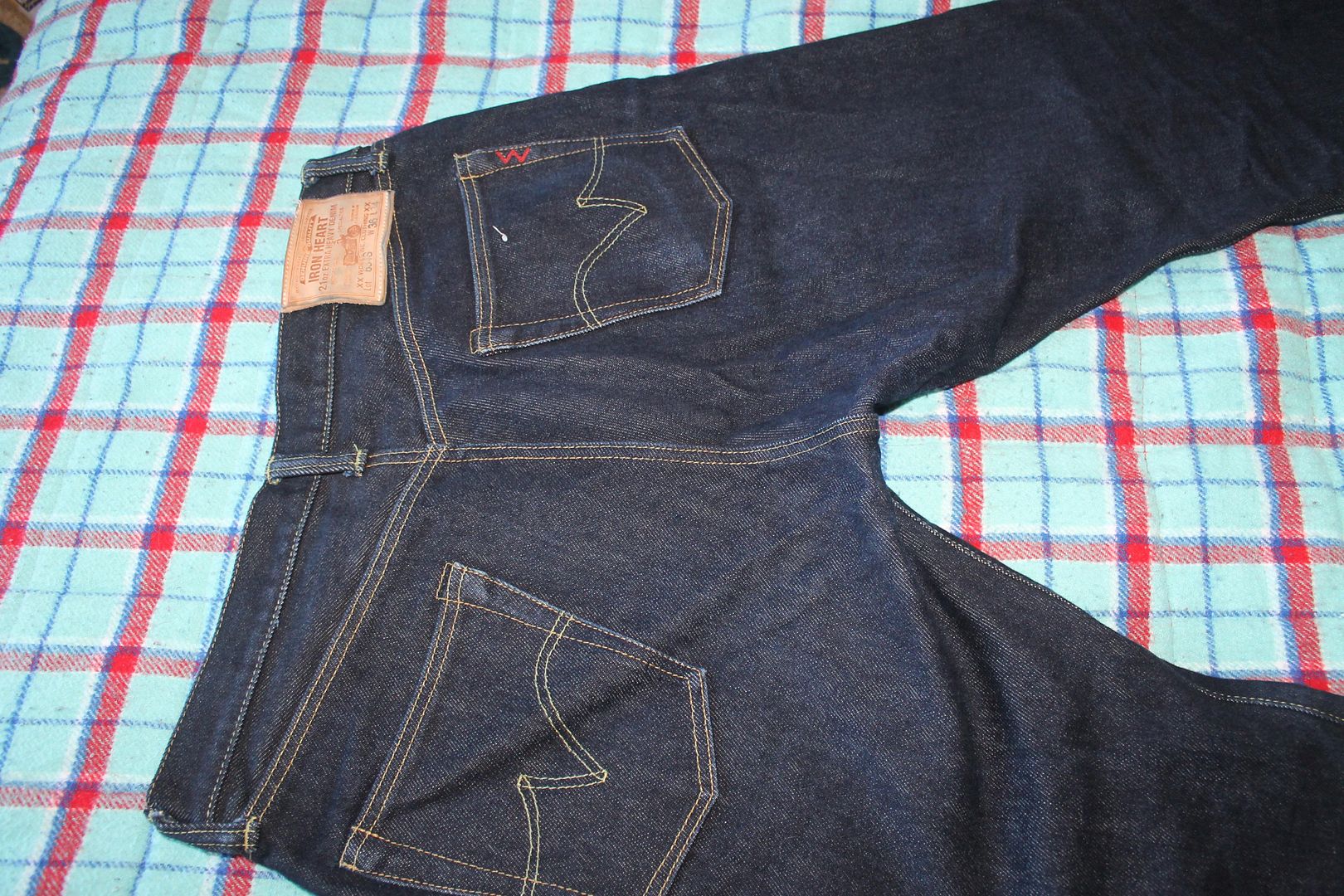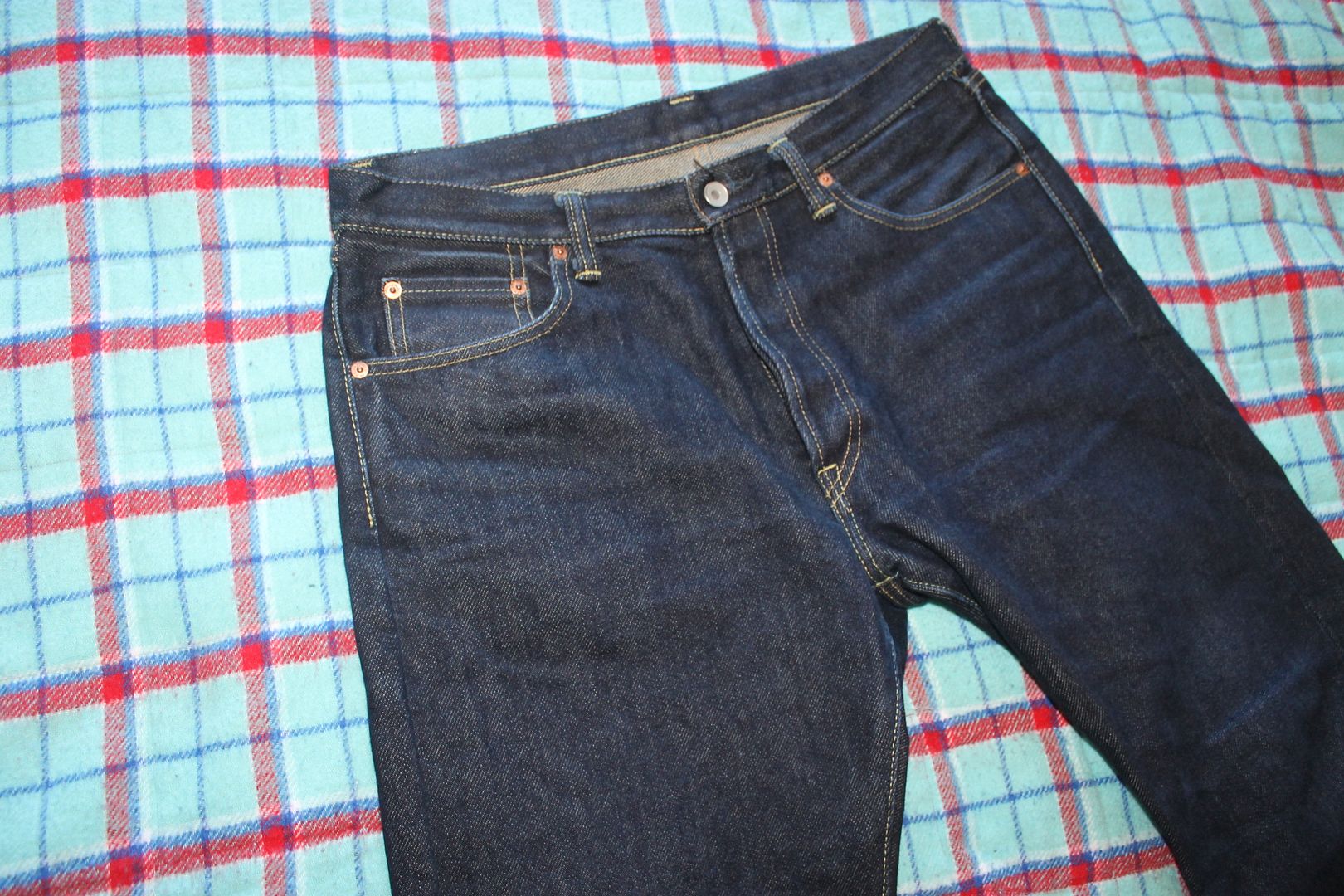 Beetle Busters 21 OZ OD $300 $275 SOLD

Excellent condition and no Shrinkage. Unhemmed. About 20 wears and one wash.
Waist 36
Front Rise 11.5
Rear Rise 15.5
Thigh 12.9
Knee 9.5
Hem 36
Opening 9.1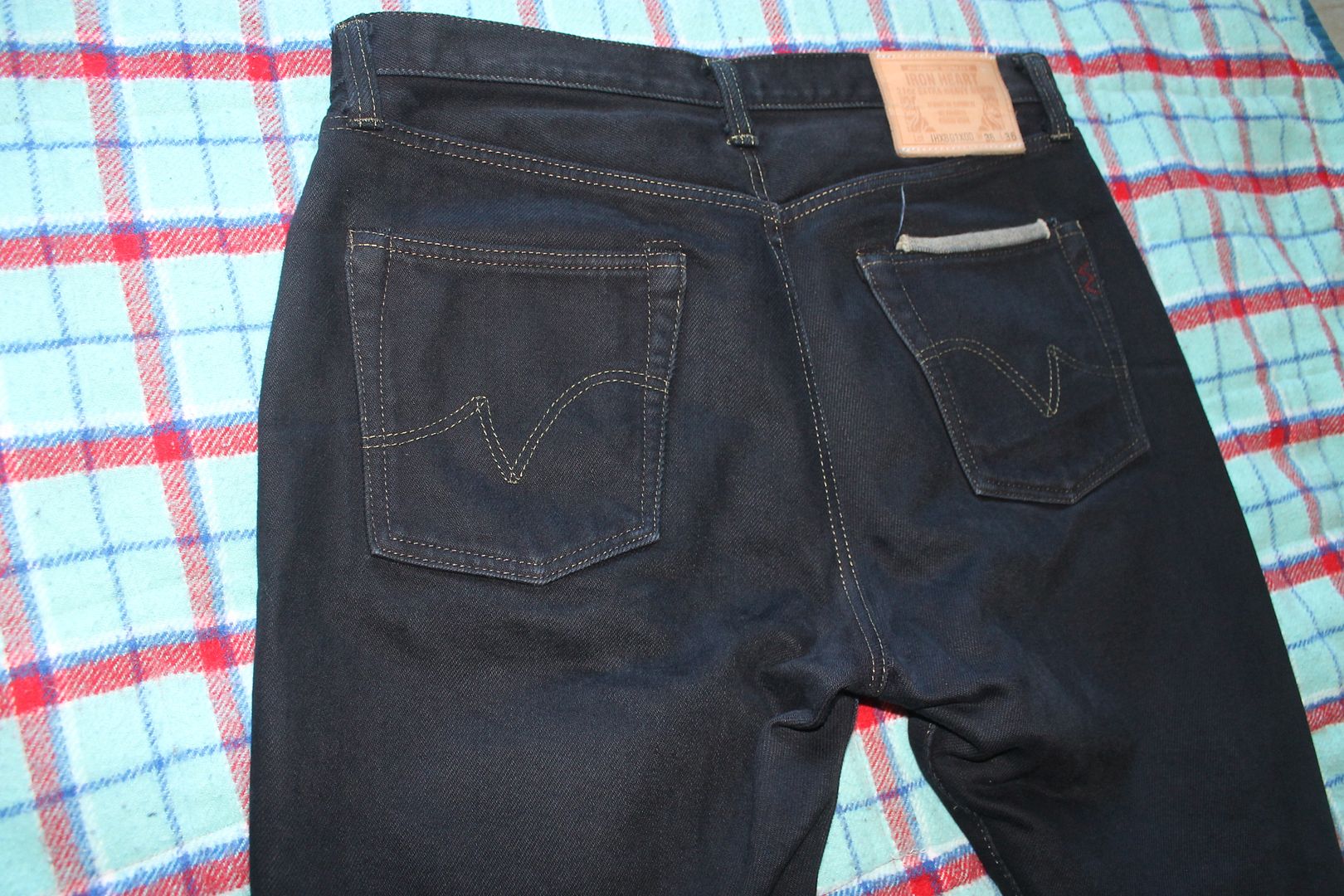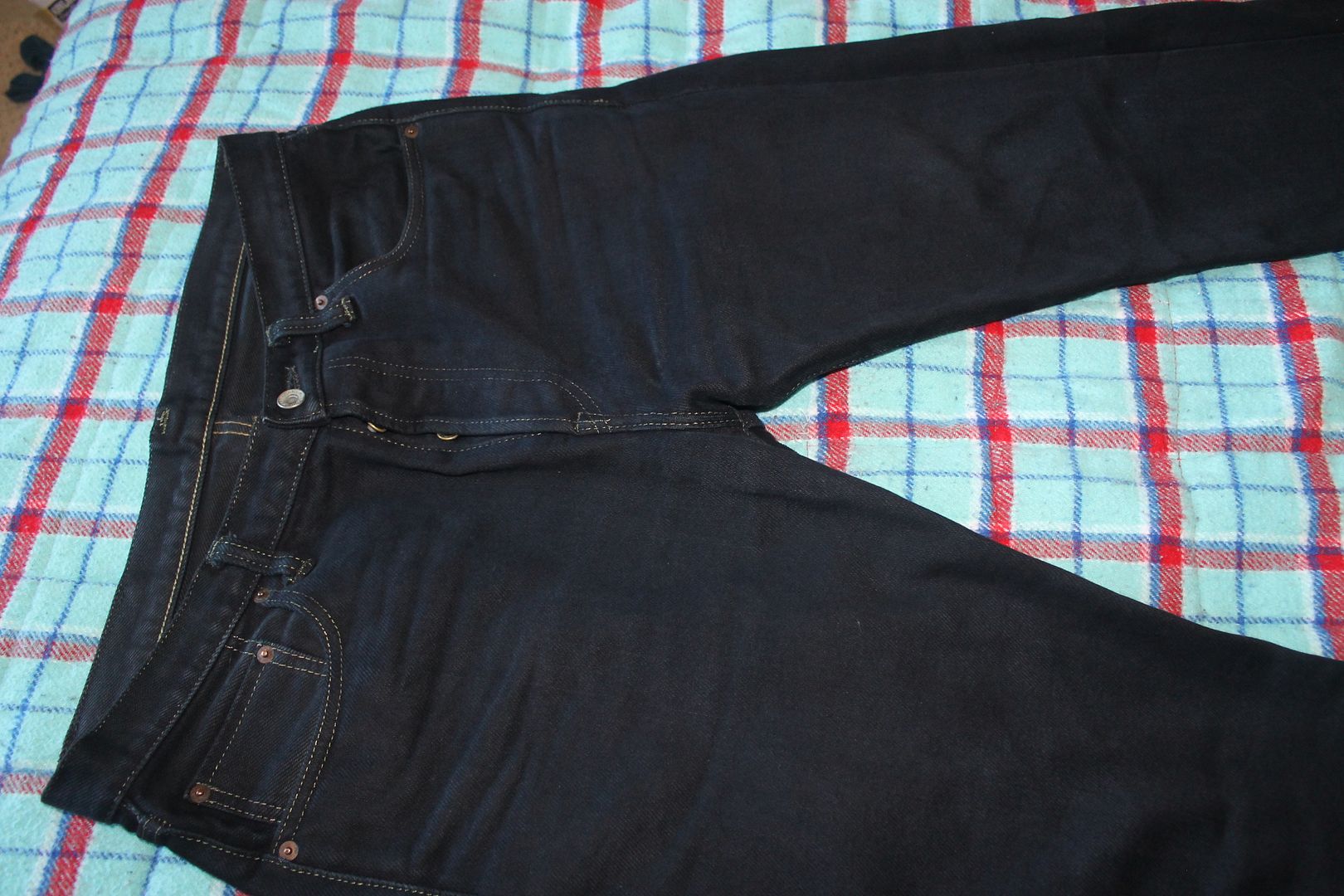 DC4002 25 OZ XHS $325 $275 SOLD

Never got much wear, just starting to peak. One soak and hand wash. No shrinkage.
Waist 36
Front Rise 11
Rear Rise 16
Thigh 13
Knee 9.4
Hem 34
Opening 9.7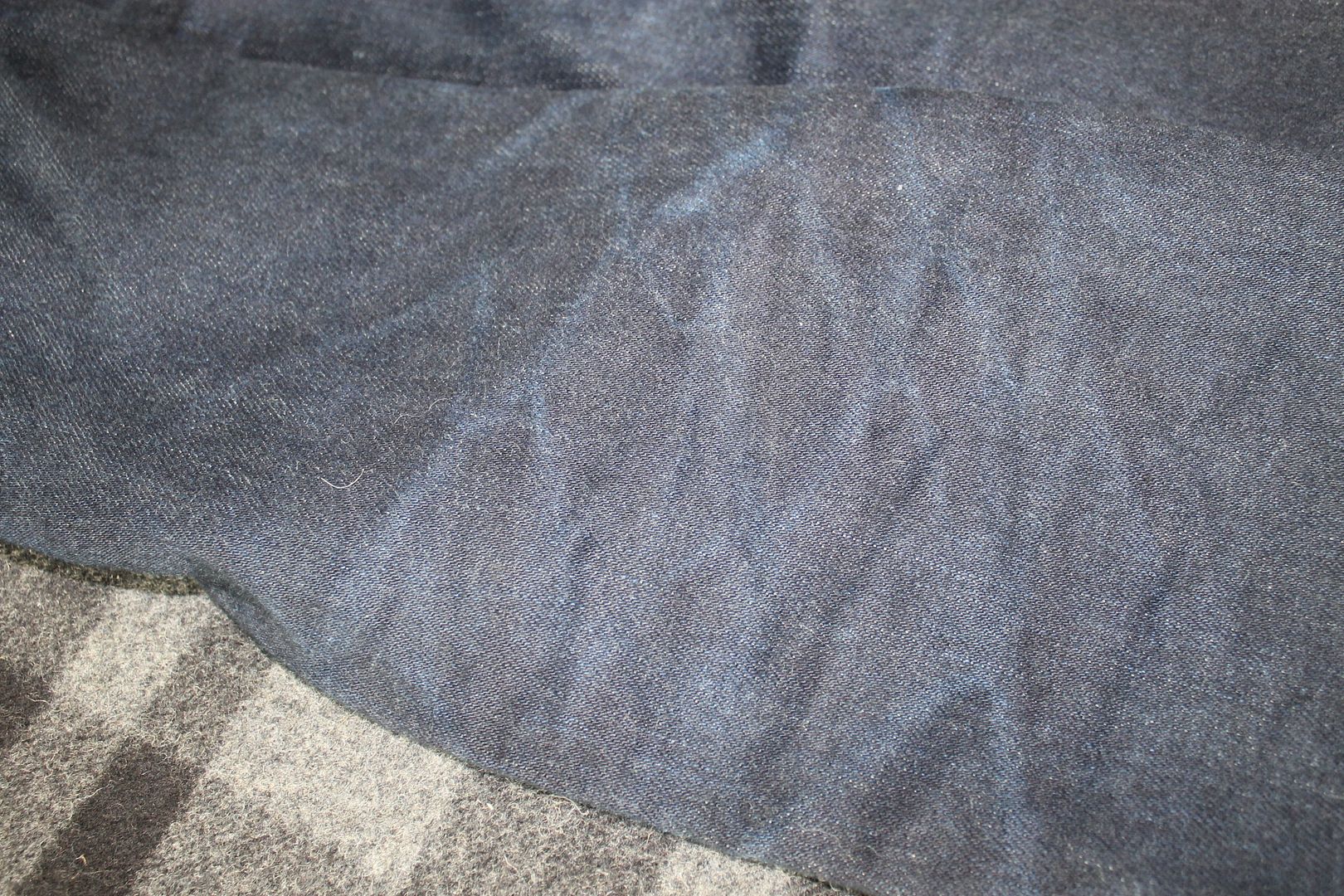 TWHR01 13.5oz Size 38 $200 $150

Light wear, one soak, one wash
Waist 38
Front Rise 11.3
Rear Rise 15.5
Thigh 13.9
Knee 10
Hem 34.5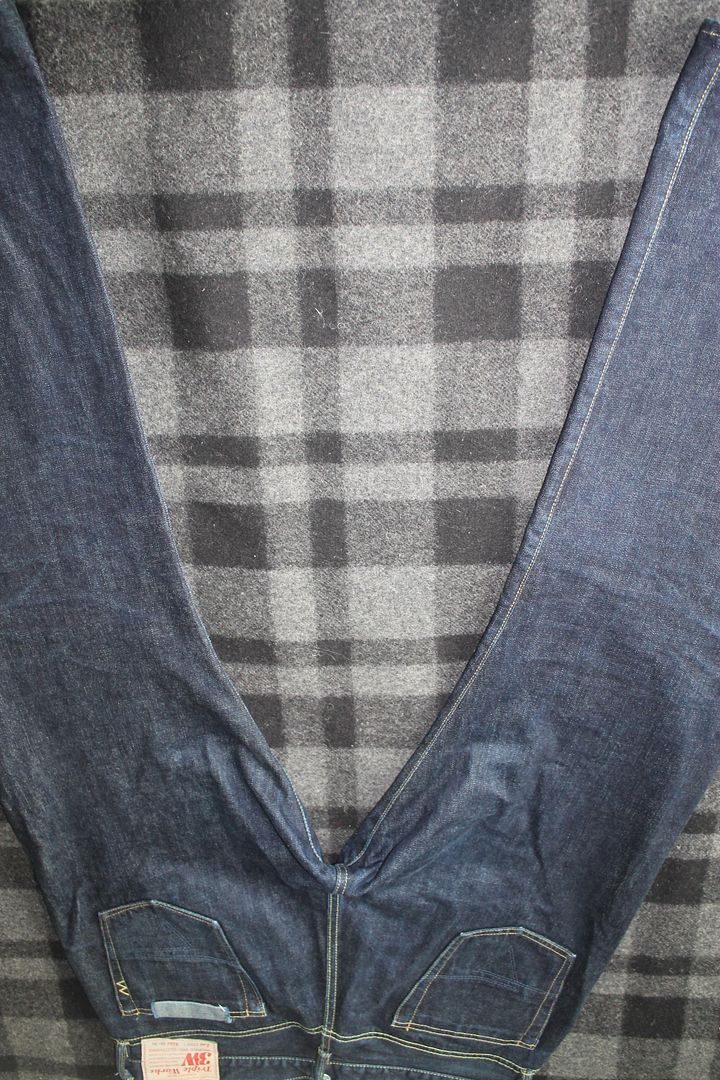 6
« on: October 27, 2012, 05:41:02 pm »
A few more things to be added over the next week. See note below.
PayPal Gift please, CONUS. International more.
Open to trades IH XXL& XL please PM
Billy Kirk Chain wallet/card case
$65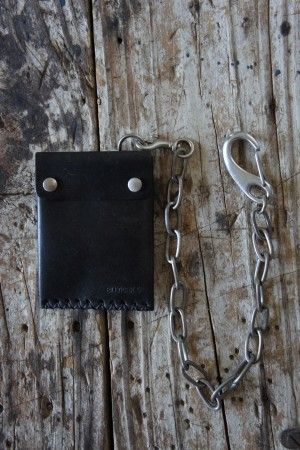 IH calf wallet and leash $200 $175
Picks of the leash coming soon: brass and leather

Measurements:
Length 7 1/4
Width 3 3/4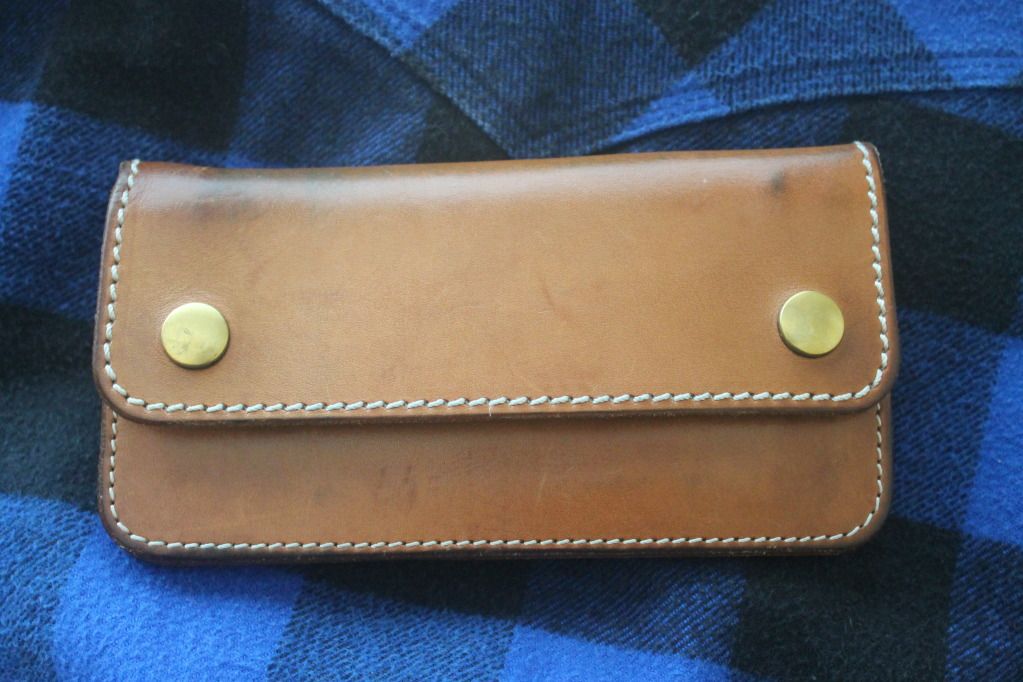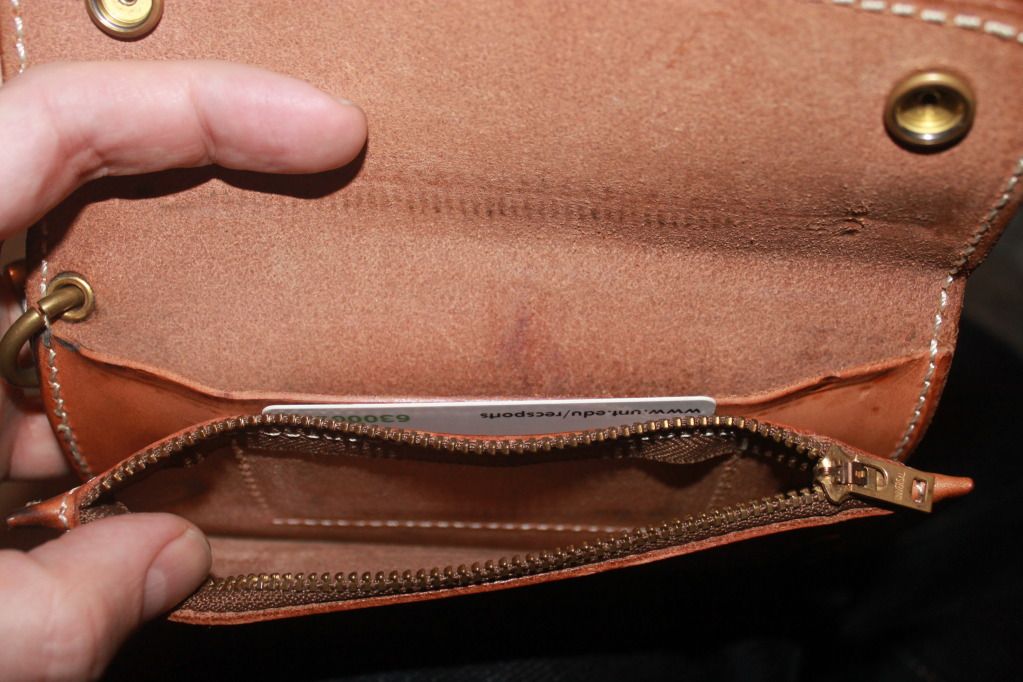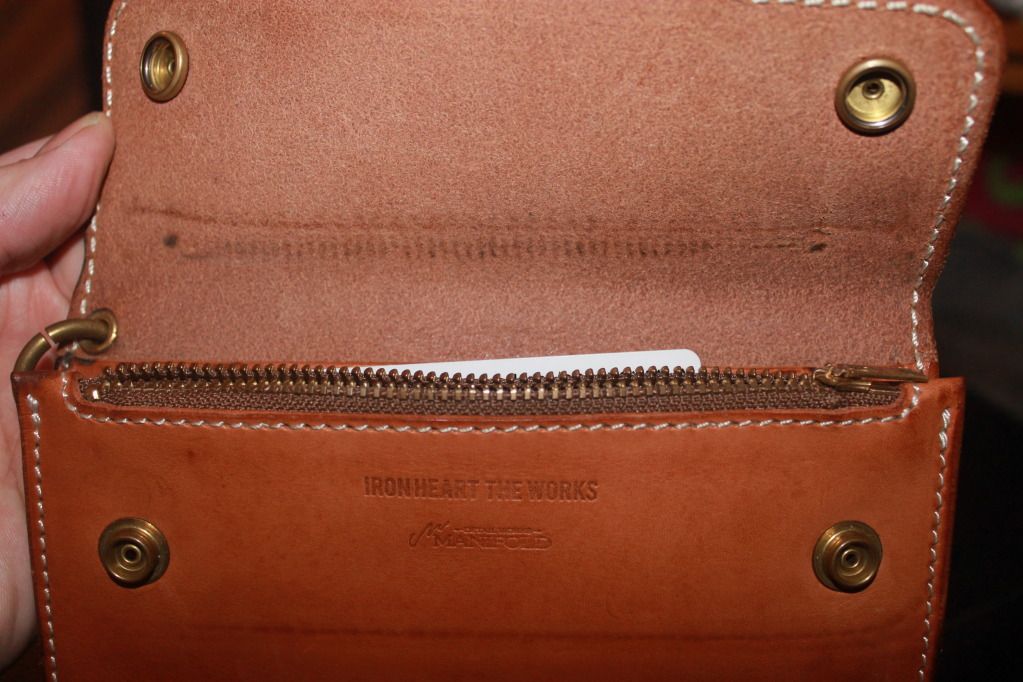 IH-WL Calf Wallet Leash

Tanner tri fold long wallet $75 New
Measurements
:
Length 7 5/8
Width 3 1/4
Post Overall's Cruzer Jacket
XL - Forthcoming
Heavy navy cotton twill, OD green thread, no washes, two wears.
$250
---
Possibly a super heavy flannel (2011), and one or two other IHSH additions forthcoming.
---
Open to trades for XL possible XXL, and size 36 or 35 bottoms/overalls, or IHUK credit.
7
« on: February 15, 2012, 08:50:47 pm »
I've got some IH westerns in Large I'd be willing to sell or trade for IH extra larges if anyone's interested. No washes and only a couple of wears on two. One cold water wash on the #24. Pretty much like new.
I have a IHSH- 23 in red, IHSH-24 red, and one other that I can't remember the IH number for but it's also a red/pink check with charcoal.
I'll post pics and measurements depending on interest but not for a couple of days because I'm pretty busy…Just throwing it out there for now.
Later, Tacos
PS Could always use a workshirt…
Seul's pic captures the colors pretty well. It's a red/charcoal/grey color way.






8
« on: October 22, 2011, 06:34:48 pm »
$250 shipped (Firm).
Also have a red Large #20 that will (probably) be posting next...

Almost new. One cold water wash, line dry. No shrinkage, no cologne. Perhaps 6 wears total, give or take.
Fit's a bit too small in the mid-section for me. I have an XL that fits a bit better.
22 pit to pit
25.8 sleeve
21 bottom hem
18 across the yoke on the back
Fit pics: comparison between a L and XL
Size Large ~~~~~~~~~~~~~~~~~~~~~~~~~~~~~~~
Size Extra Large ~~~~~~~~~~~~~~~~~~~~~~~~~~~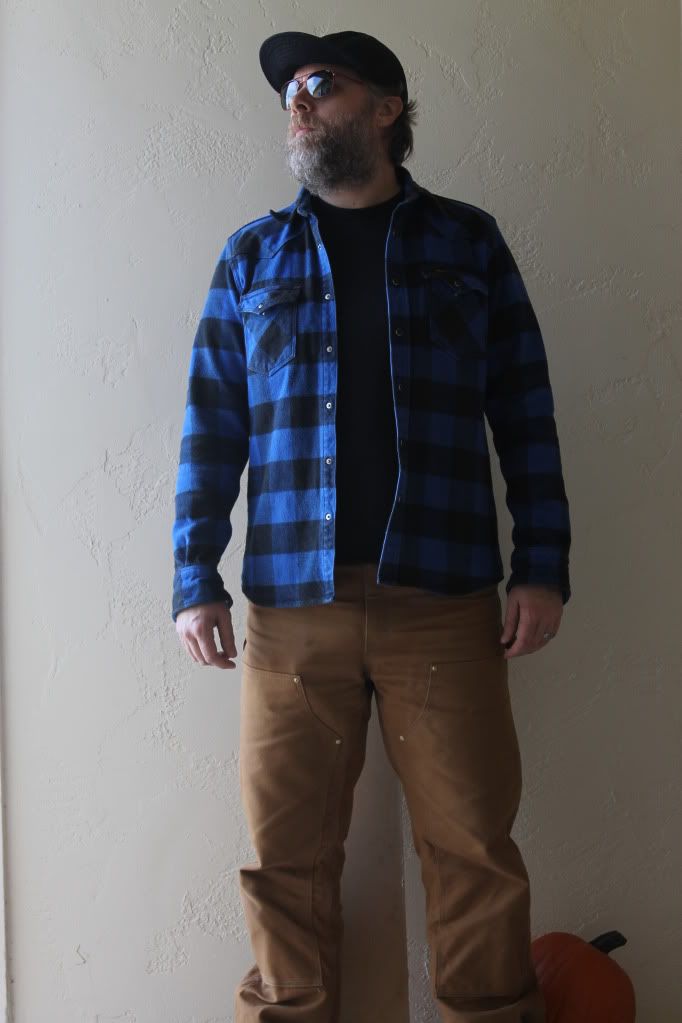 The two pieces look almost the same but the XL has about 1.5 extra room in the body. I'm 5'11 and about 185 atm.
9
« on: October 07, 2011, 11:10:01 pm »
I'm selling off a few of my large IH pieces. I'll post pics and measurements on Monday when I get back in town.
Here's what I'm letting go of:
1) IHJ-06 – Large Brown Fleece Lined Cordura Winter Breake-----$425

SOLD



Never worn, new with tags. This was the last Large brown/green one Giles had.
I bought it only a few months ago when the weather was still warm and then found out I was moving to Southern California so there's just no occasion to use a full on winter jacket here.
Winter Breaker
See Giles measurements on the site:
http://www.ironheart.co.uk/index.php?main_page=product_info&cPath=3&products_id=127
This jacket is new and unworn. I'm 5'11 and about 187 lbs and it's a perfect fit.
2) Melton wool shirt, dark Navy------$250

SOLD



I'm 5'11 and 190/187lbs and it's too small for me.

Note: One cold water wash by previous owner.
All measurements taken with the garment laid flat.
21 inches pit to pit
21 inches at the bottom hem
17.5 straight across the shoulders (across the yoke)
24 inches down the outside of the sleeve
Melton Wool
It was too small for me from the get go I can't wear it. It fits smaller than my other IH larges and is too small in every respect. The sleeves are about an inch shorter than my other IH larges in the western cut and is about an inch smaller in the chest and shoulders as well. I suspect this would fit someone well who is around 5'9 and about 160 to 170 lbs.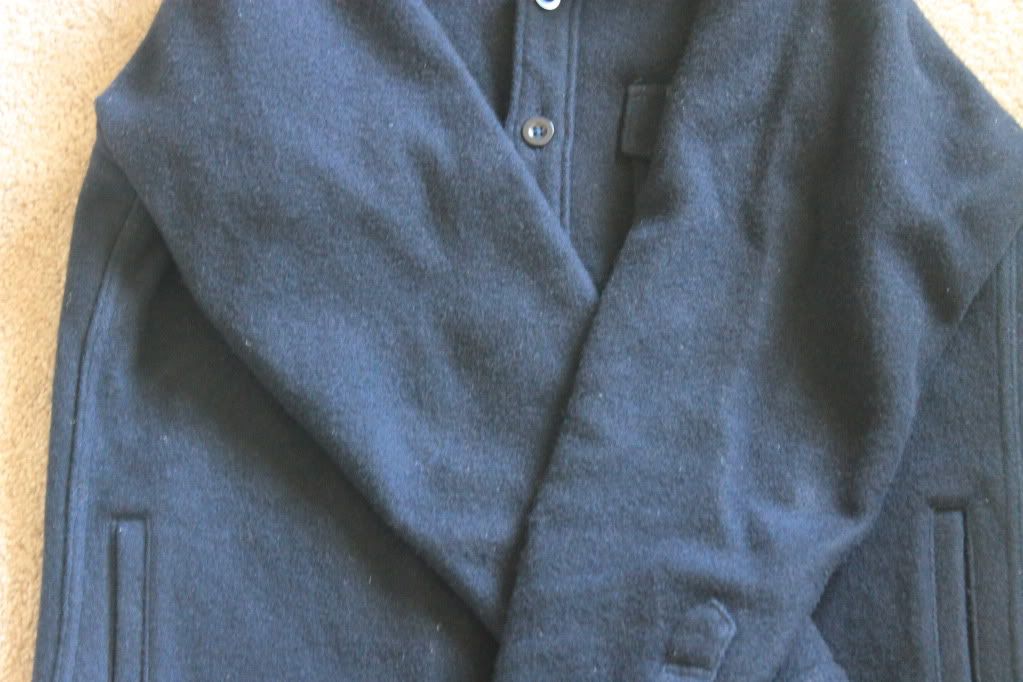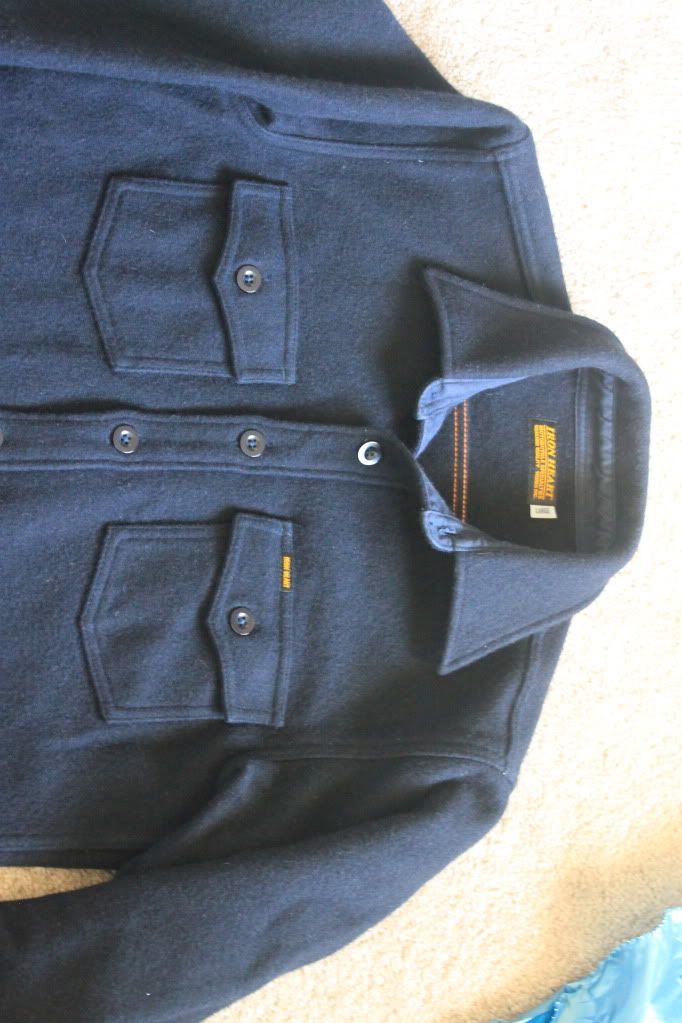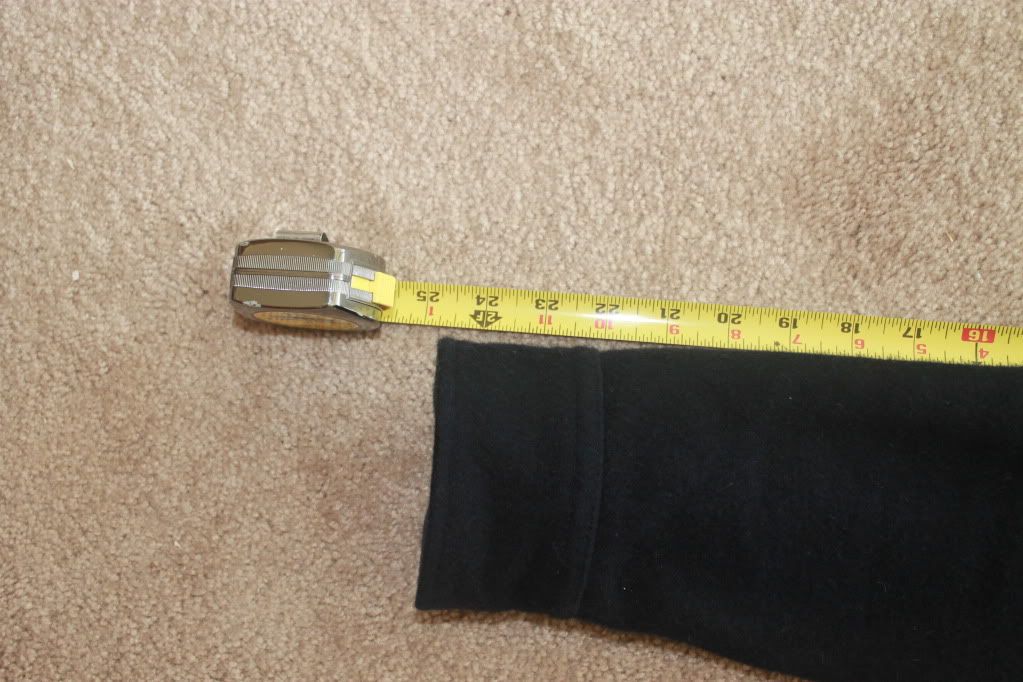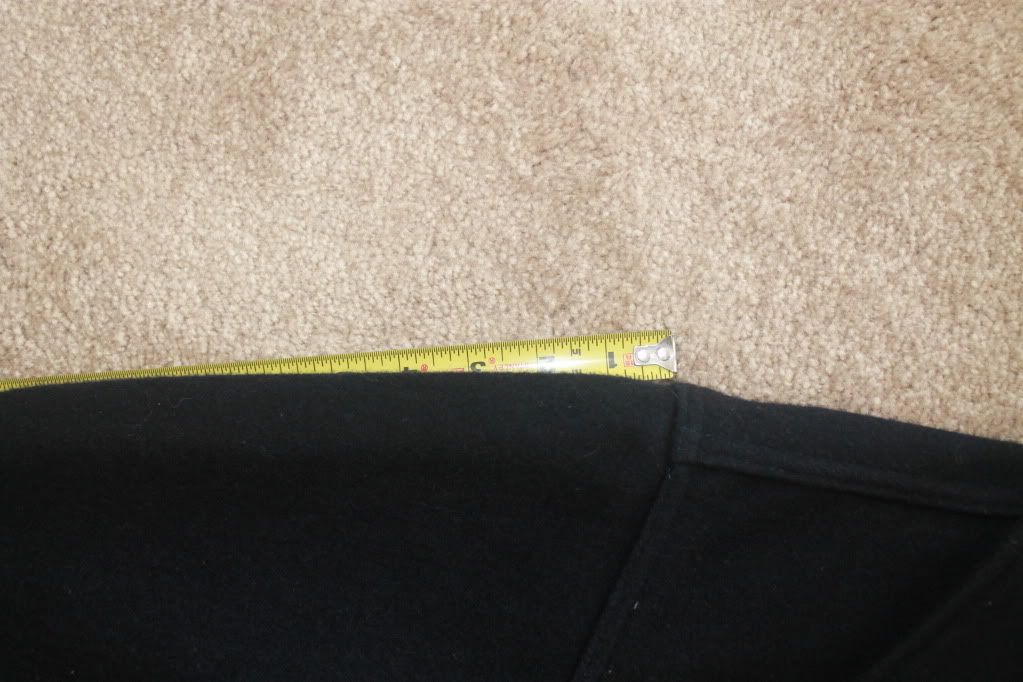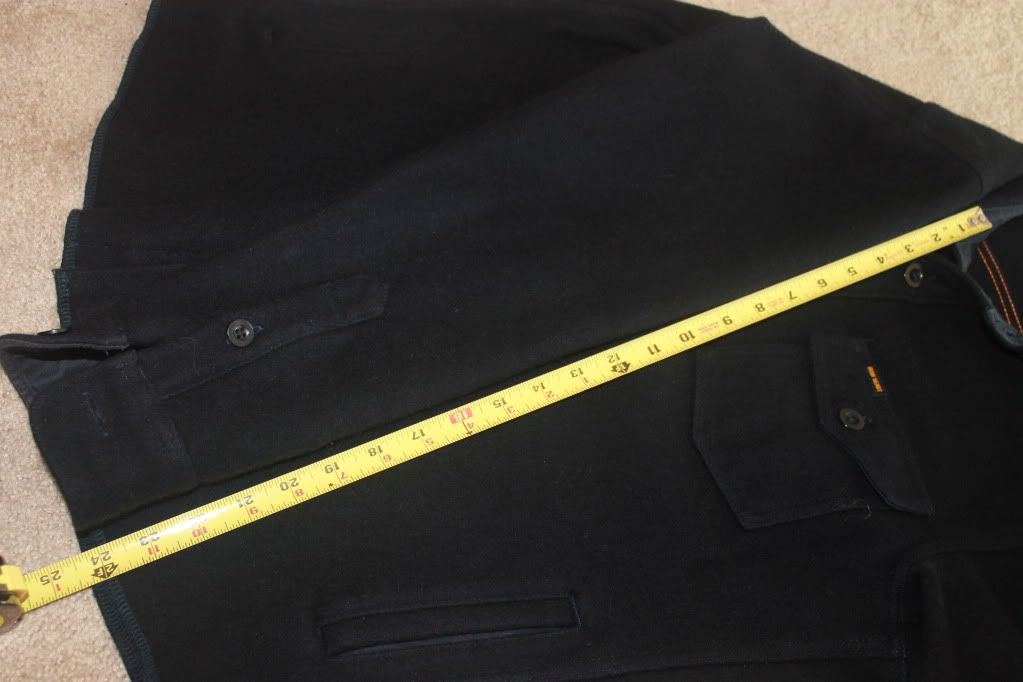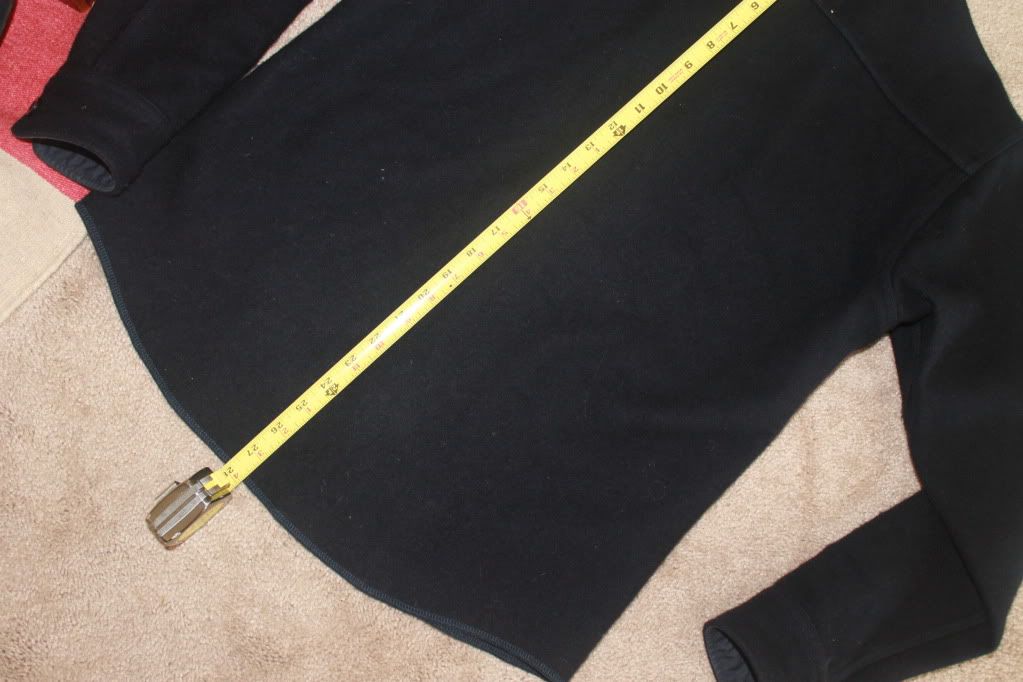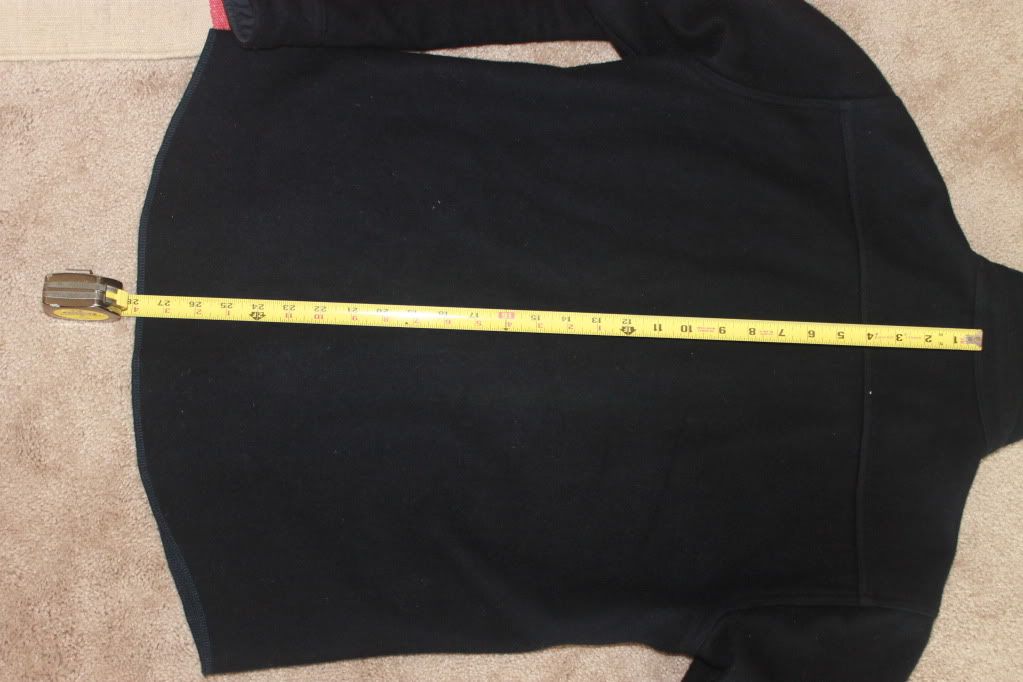 3) IHSH-37 Red------$250

SOLD



Worn once, no wash, like new. Fit's a bit too snug for me. I bought an XL from Giles as this is my favorite IH Shirt besides the super heavy.
Note
—
will work out a trade for any color IHSH-20 in XL for any of the above Items.
Pay Pal Gift payment for my protection please.
Pages: [1]