Show Posts
This section allows you to view all posts made by this member. Note that you can only see posts made in areas you currently have access to.
Topics - TheTrooper
Pages: [1]
1
« on: September 04, 2019, 03:38:37 pm »
Hi,
Thinking about letting a few things go that I never wear.
IHSH-130GB
XL
Worn three times max, no wash
190–>170 euros or trade for other UHFs in XL or XXL
Armor Lux Flanell
XL
This is actually not bad. I'd guess it's almost 10oz fabric, made in France, Button down shirt, but it can't compete with my Iron Heart collection so it might as well leave.
40–>30 euros
Papa Nui Cap
I think it's the Marauder cap
Not really my thing, although these are very well made caps I gotta say.
40–>30 euros or trade for something in pacific camo
Items are located in Germany with shipping to be determined depending on location
Thanks
Gesendet von iPhone mit Tapatalk
2
« on: July 25, 2019, 09:53:27 pm »
Hello,
Selling my Oni 546 Kabuki Natural Indigo, 22oz in size 32
See attached images for measuremtns and way of measuring.
Wore them like twice, bit too small for me. These are completely different fron the Secret denim, as these are quite stubborn and from what I gathered they fade rather slow with the natural indigo. There is a tiny tiny shade of fade at the wallet but thats it, not broken in by a long shot.
Price is 250 euros plus shipping depending on destination. Will also consider trades in 33/34 heavy denim IH, Samurai, Oni etc.
Price is 350 pounds at:
https://www.sonofastag.com/products/oni-546-natural-indigo-22oz-jeans
Thx for looking, plenty more pictures on demand
3
« on: May 13, 2019, 02:37:49 pm »
Good day Gentlemen.
I would very much like to sell this fine garment, as sadly it has not found its way into my daily wardrobe.
It has rarely been worn and is in very good condition as you might ensure yourself with the attached pictures or with any more pictures to be sent upon your request.
I would also gladly trade this for any flannels in XL that I don't already have. Other than that, I would like to see 160 euros plus the fee for the courier which is to be determined depending on your residency.
If I actually paid less when I bought it from @cutlasshound many moons ago I will adjust the price of course, but I think it was somewhere around this amount.
Thank you all for viewing this, and have a nice day.
Gesendet von iPhone mit Tapatalk
4
« on: February 12, 2018, 11:48:05 pm »
Hey everybody,
I would like to shift some gear I sadly never wear for some reasons.
Items are located in germany, prices include shipping in germany, everywhere else we´re gonna figure something out. Paypal please. Open for trades in XLish or 34ish.
I´ve uploaded quite a lot pics to my imgur, including the way I measured, feel free to check that out:
https://xfatchrisx.imgur.com/
First is this great Flat Head Winter Flannel in 44, great herringbone fabric, mother of pearl snaps, very warm and thick. worn, but in great condition with no visible defects.
p2p is 24 inches/61cm
Only reason I´m selling this is because it loses in direct comparison to my IHSH-127, which fits my body type pretty neat. And I can´t justify having two lumberjacks.
€ 130
Additional pictures here:
https://xfatchrisx.imgur.com/
Thanks for looking
5
« on: April 06, 2017, 05:36:41 pm »
For sale or trade following items from Acronym. from a time before ASAP Rocky ruined the brand
GT-J14 black large
SS-J2 graphite large
SS-J7 black large
Brugnoli Cotton Hooded Sweatshirt, heather grey, large
GT J14 1000 €
SS J7 400 €
SS J2 450 €
I have a lot more pics for anybody interested, just PM me.
Thanks
6
« on: May 31, 2016, 08:56:08 am »
Hey everybody,
I´d like to sell these items, as I don´t really wear them as much as they deserve.
Rocky Mountain Featherbed Vest
Size 44
Excellent condition, rarely worn
300 Euros OBO
Iron Heart 634 UHR 32
Actual measurements 40cm waist and 85cm inseam
Almost no fades yet, judge by the pictures
have been slightly tapered by a good tailor to be more "sneaker-friendly"
160 Euros
Iron Heart 634 BLK 33
Waist 42cm inseam 78cm
Some nice fades already, no damage
have been slightly tapered by a good tailor to be more "sneaker-friendly"
160 Euros OBO
Please look at the pictures at the dropbox folder to see for yourselves.
https://www.dropbox.com/sh/njoha6gis5qsra9/AABLZl4ZWR4s_HCLn73_qfiAa?dl=0
Trades are nice too, Samurai/Iron Heart/Oni/Flat Head/Buzz Rickson/Stone Island/old Belstaff what have you
Items are located in Germany and shipping is on the buyer or we´ll work something out.
Thanks
7
« on: March 22, 2015, 06:16:34 pm »
Hello.
It is with great grief, that I offer this up for trade.
My tailor, who is a nice turkish gentleman, fucked this one up.
He did everything else so far very good, but he hemmed these way too short for some reason. Since he cut off so much, I had him taper the leg a little bit, so that it doesn´t look too much like boot cut. But it did not help, it is just too short to wear with a turnup, and who wears jeans without a nice cuff.
The size is 34, the denim and details are amazing, you probably all know anyway.
Actual inseam is now like 74cm, leg opening is 20cm and waist is about 44cm, I can provide pictures to show how I measured.
Maybe there is someone here to give this pair a nice new home and wear it like it deserves to be worn, so just offer me anything in size 33 to 34 or Shirt sizes L to XL, I dont really care what it will be, as Long as I can wear it.
90 Euros shipped
Thanks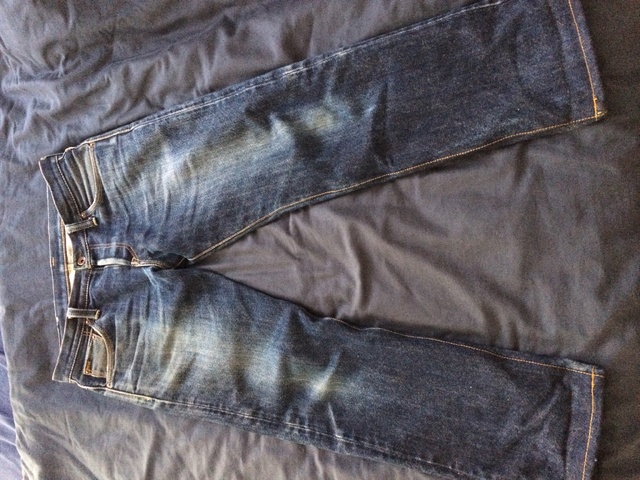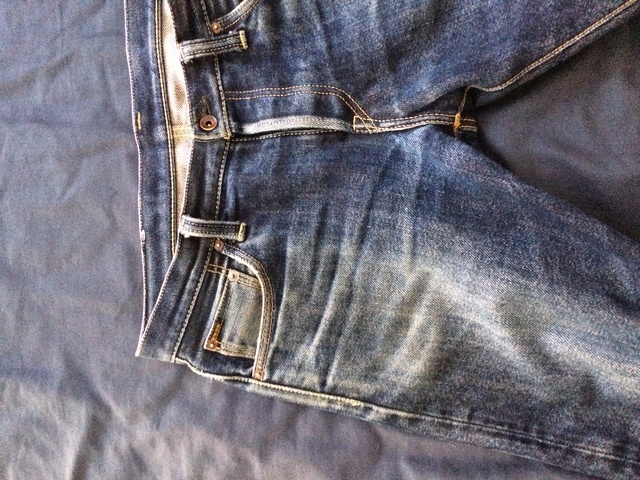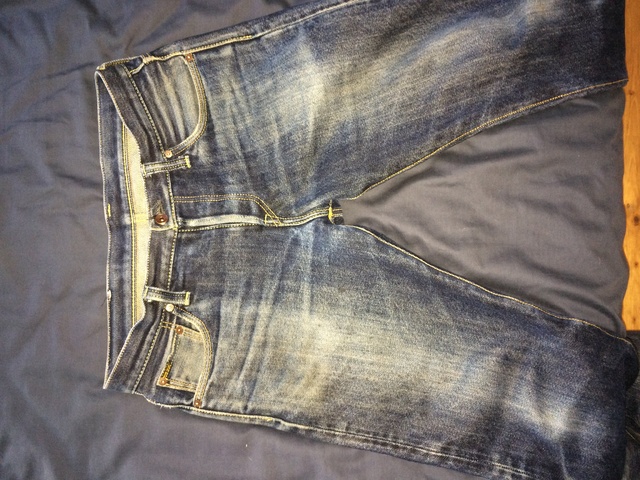 8
« on: January 30, 2015, 01:25:30 pm »
Good day to you,
I want to sell or trade this great Samurai Denim Shirt. Heavy duty Shirt, densely woven.
Worn twice.
It is XL, would love to keep this, but it´s a little too tight for me, as you can see on the pics.
I´d prefer trade for an Iron Heart flannel in XL or something like that or Jeans in 34.
Price is 180 Euros OBO
Additional pics and measurements and pics with measurement (!) on request.
Thanks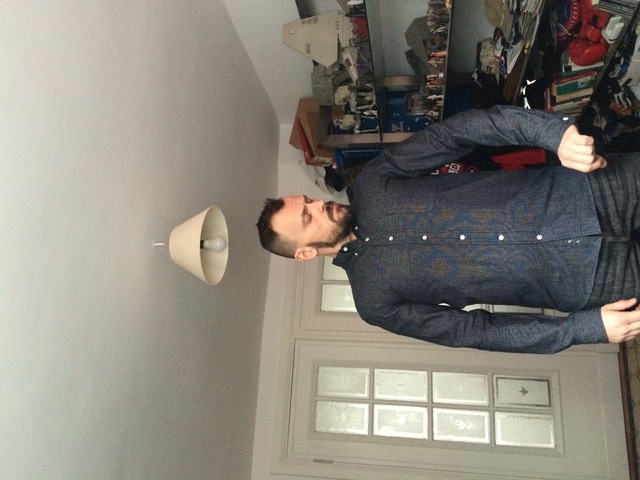 9
« on: August 20, 2014, 01:31:17 pm »
Gone thank you all
Pages: [1]