Show Posts
This section allows you to view all posts made by this member. Note that you can only see posts made in areas you currently have access to.
Topics - seanocono
Pages: [1]
1
« on: May 12, 2016, 09:04:16 am »
So I picked up the new Black Type II from Sugar Cane at SELA today, brought it home, and then decided the sizing doesn't work for me. I'm really awful at buying things at stores.
It's a shame because everything about this jacket is darn nice. I can't make it back to the store for a few days, so I figured I would throw it up on here and see if anyone wanted it before I returned.
Of course, with a little discount for buying from me.
$240 shipped in the CONUS.
This is an especially good deal if you live in CA. I paid $300 with tax.
Brand new with tags. Unwashed. Tried on for a minute or two, maybe.
Measurements are nearly identical to the SE site:
Size 42 --
CH: 47
SH: 21
SL: 26.5
LE: 29.25
http://www.selfedge.com/index.php?route=product/product&product_id=1540
2
« on: June 11, 2014, 05:50:52 am »
I've worn this nearly every day for a year straight, but, like most good things, it must come to an end.
There is typical patina, which looks great. I just had it professionally cleaned, so it looks almost new. It certainly shines like new.
Original box, deerskin pouch, and two extra small rings (which can be easily added by a jeweler to lengthen the chain a bit) are included.
$450
$400
shipped in the CONUS. I will ship internationally, but we will have to spec shipping based on location. PM is the key.
3
« on: March 14, 2014, 11:35:51 pm »
I recently picked up this classic from a well-respected forum member. It's an amazing flannel, in excellent condition. Unfortunately, it's too short for me, so I have to move it.
$200
shipped in the CONUS. I am willing to cover the first $15 for international shipments. PayPal gift or +4%.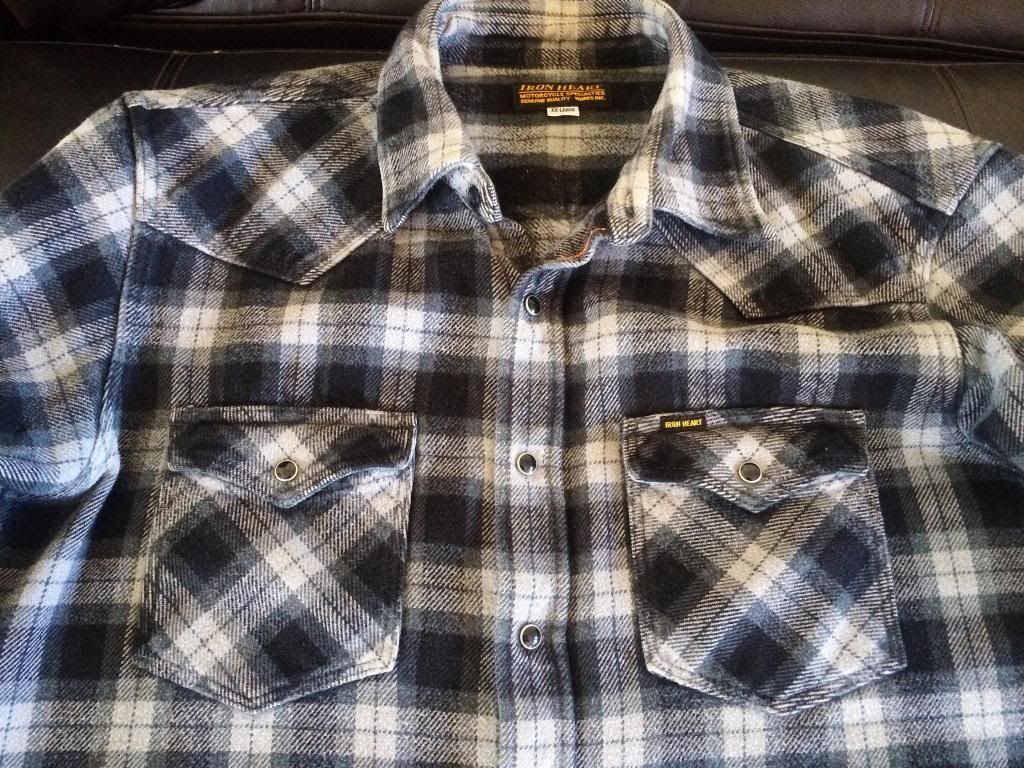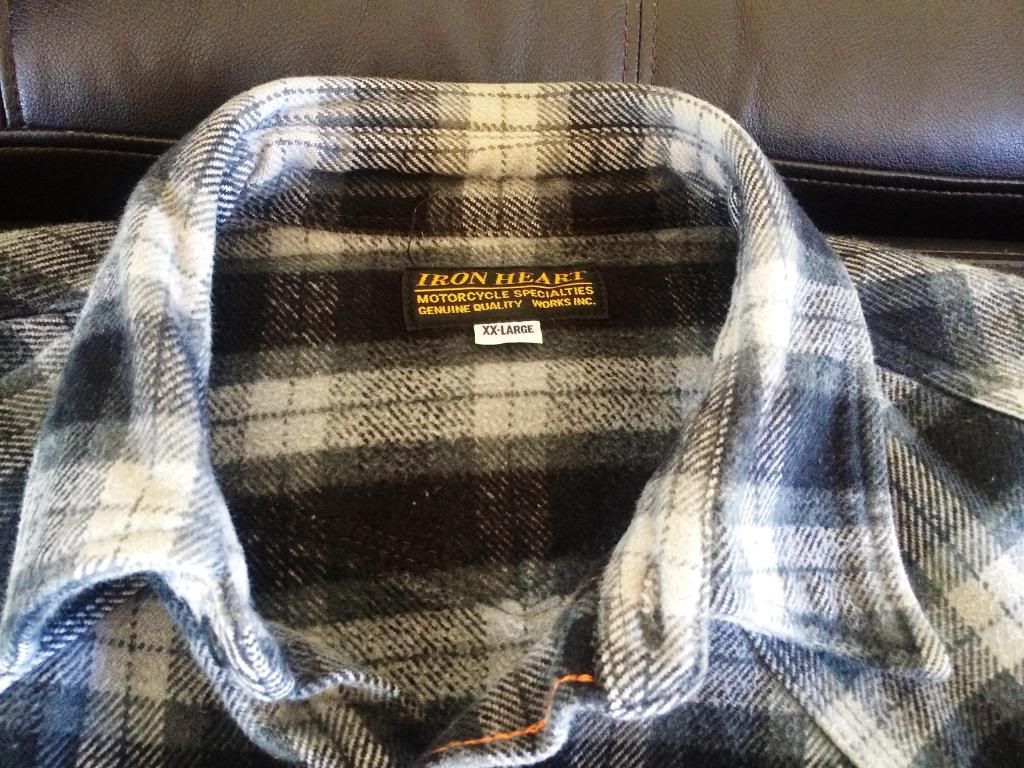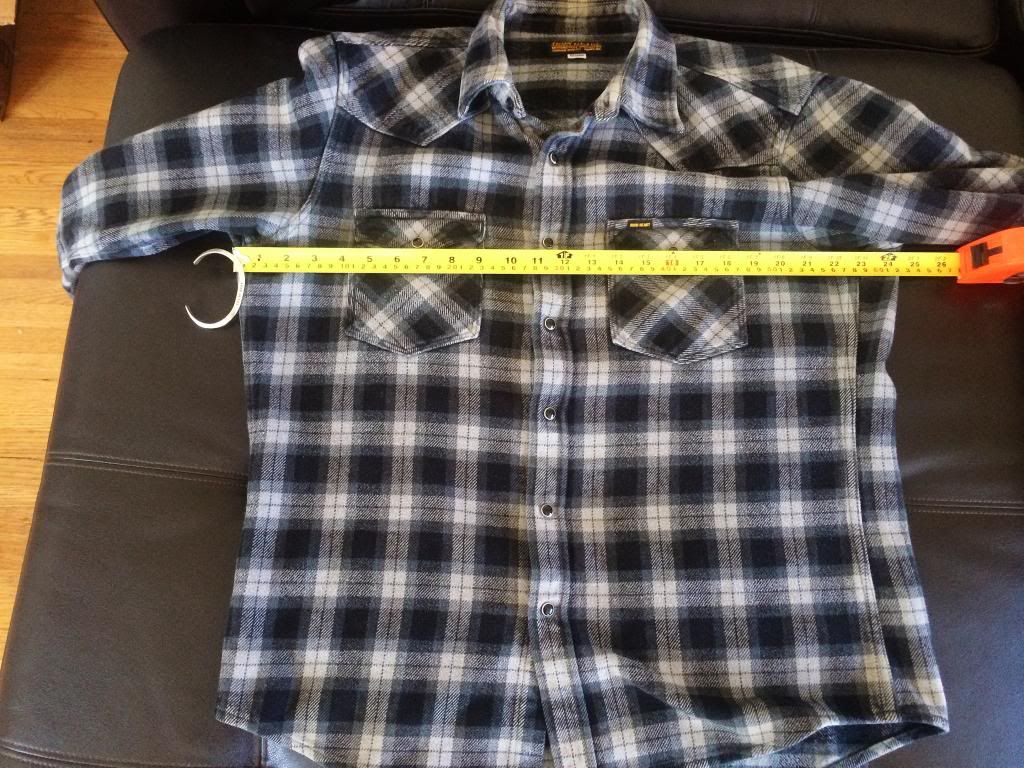 Measurements (in inches; done the IH way):
CH: 24.4
SH: 20
SL: 26.5
LG: 29
I am also going to list on the Bay for about $50 + shipping more. Just because I've had some success there, recently.
Thank you for looking.
4
« on: February 21, 2014, 03:58:12 am »
I recently picked up a pair of 634-GR and it helped me realize how poorly my current rotation fits. I am selling a couple nice pairs of jeans, and a couple pairs of completely altered jeans (see description below). I'm also taking this opportunity to move a couple shirts that are brilliant, but just too large.
All prices include shipping in the CONUS. I will cover the first $15 of international shipping. Paypal Gift or +4%.
Sz 34 IHxB01-25
-- These 25oz beasts are from the first run, right after the MBBs dropped. They vary slightly from the current run in the webshop (in measurements). They have been worn in rotation for ~9 months with a few other pairs. Five washes. There are some lines and minimal scuffs/tears from cuff experimentation (see pics). These are unhemmed, so that may not even be an issue.
$200 $175 $125
.
All measurements done the IH way, in inches:
W - 33.75
FR - 11.25
RR - 16
TH - 12.75
KN - 8.75
HM - 8.25
IN - 37.75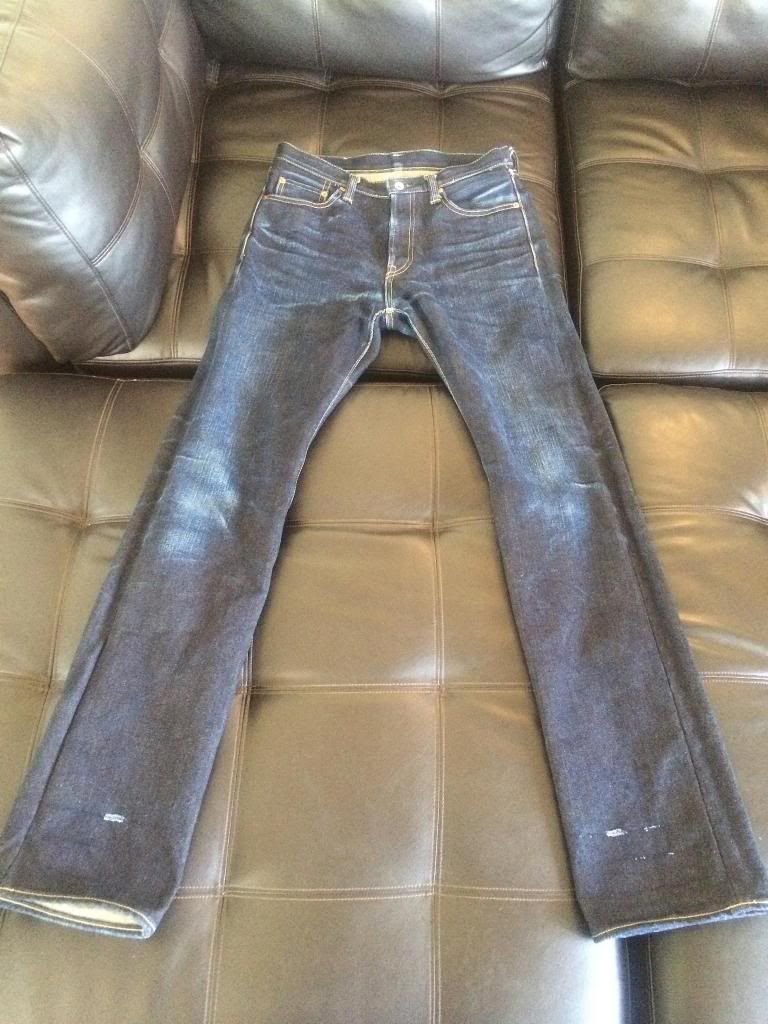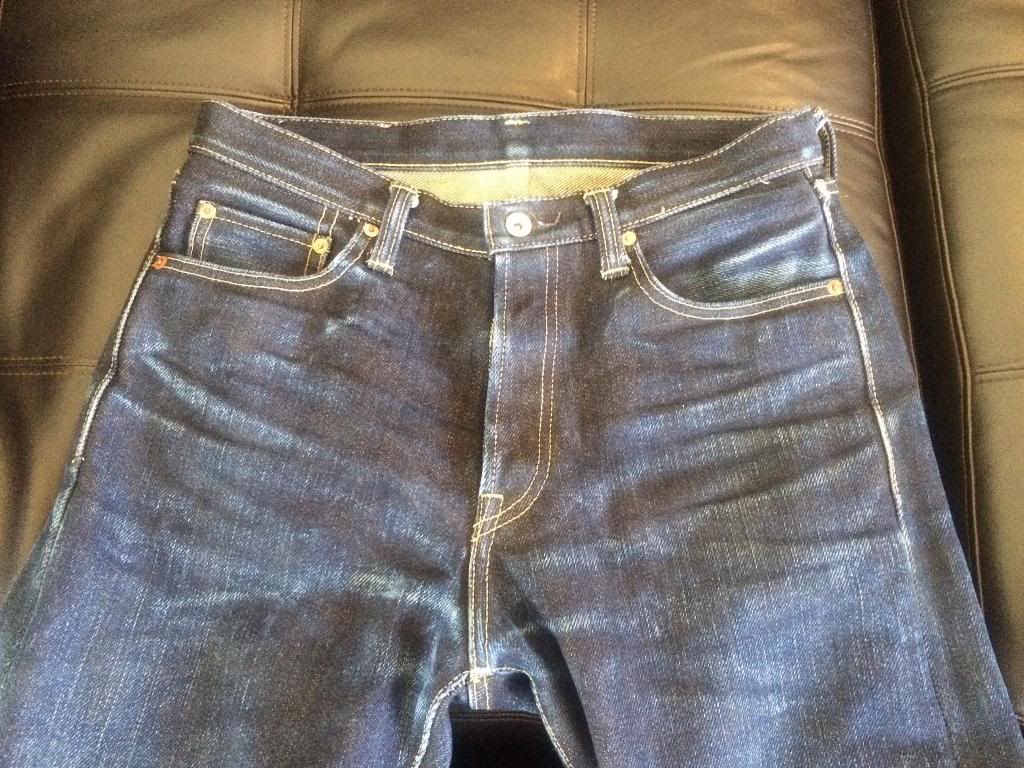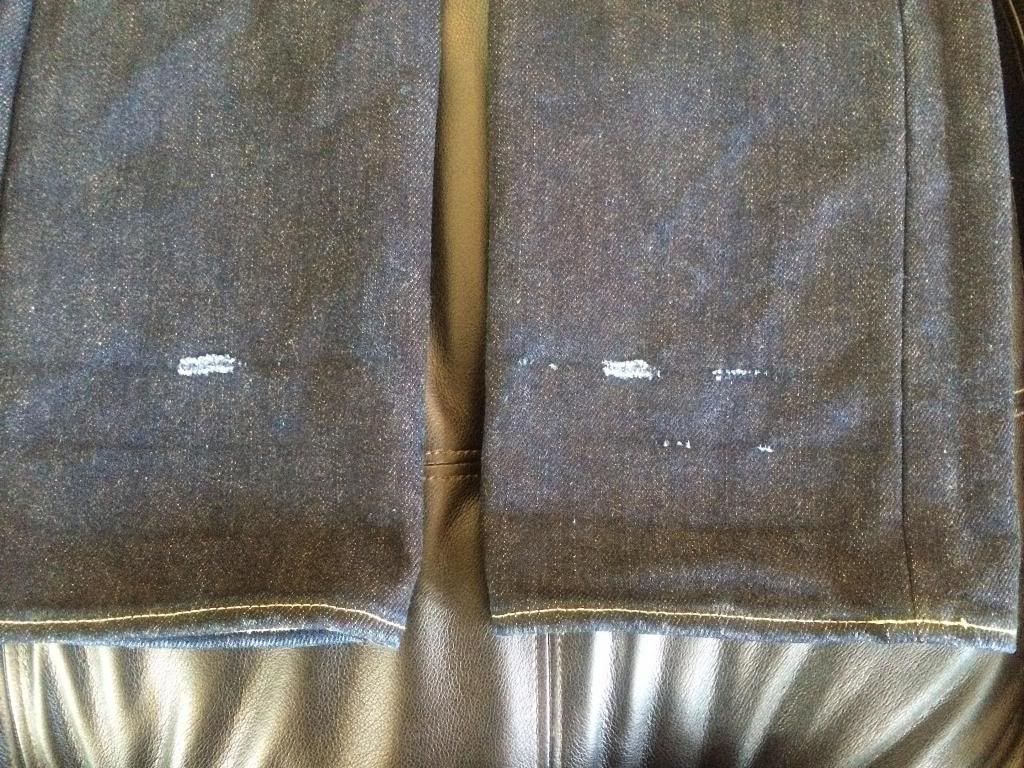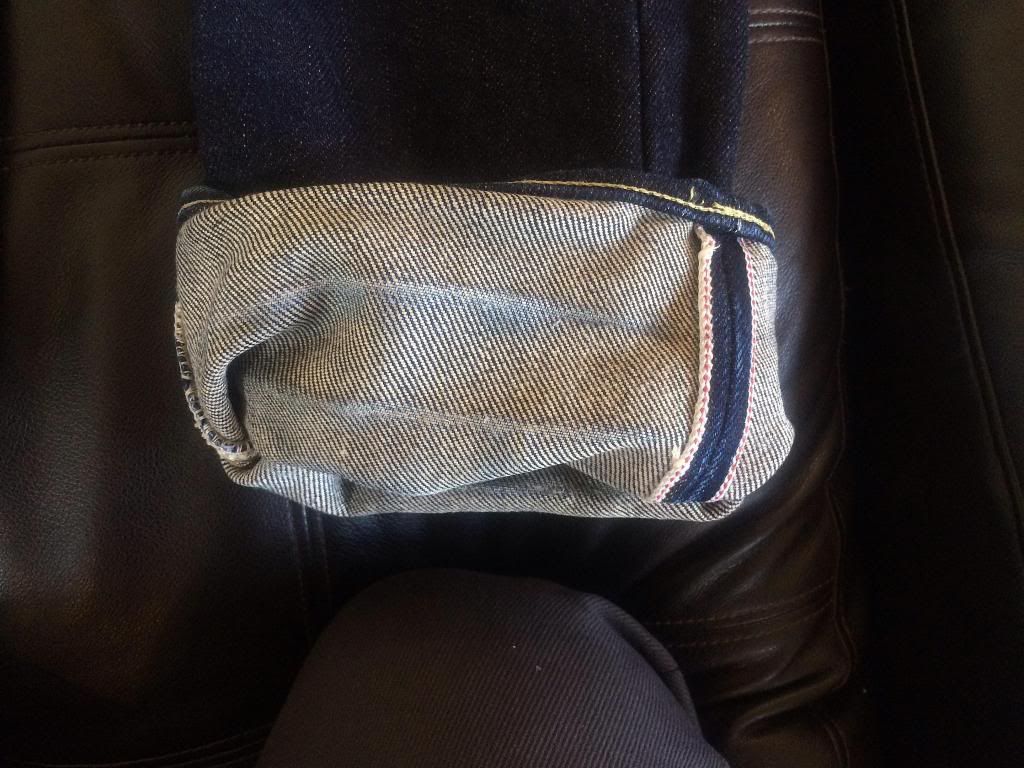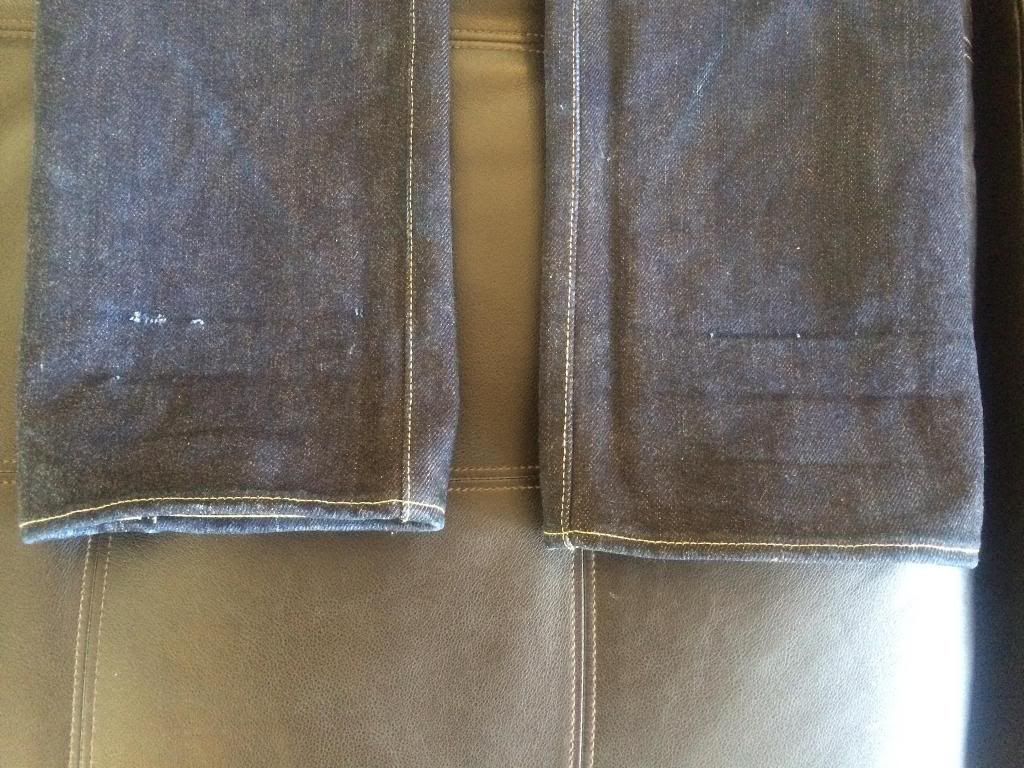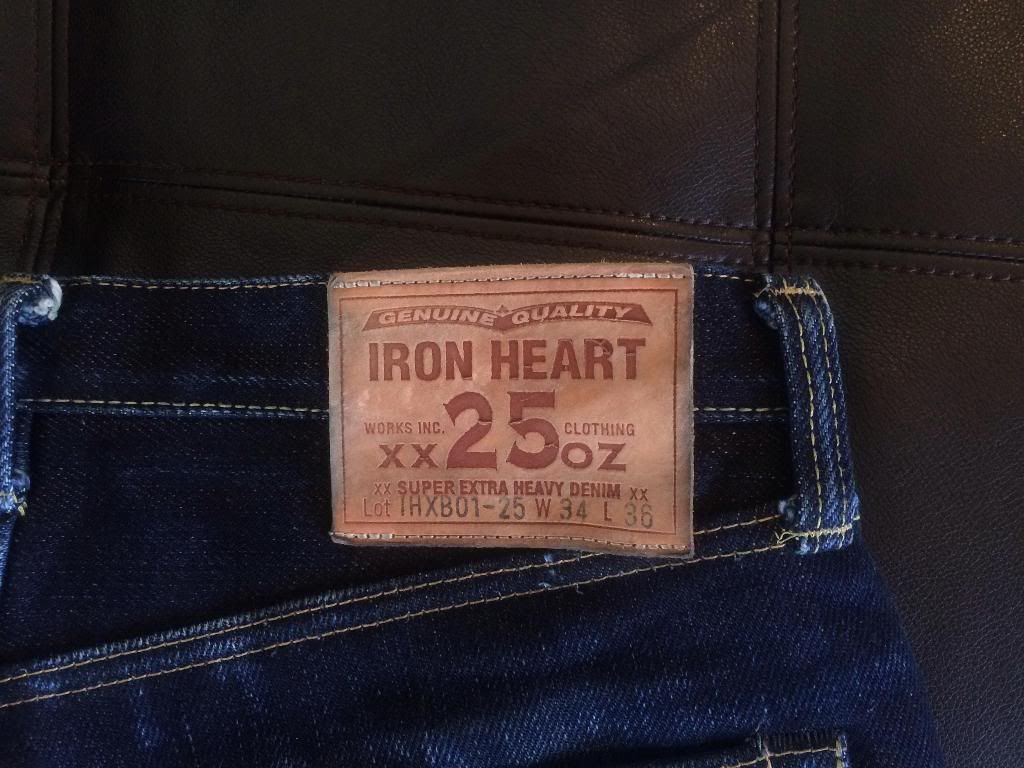 Sz 34 Samurai S5000VX25oz
--
http://blueingreensoho.com/site/index.php?page=shop.product_details&flypage=shop.flypage&product_id=14253&category_id=&manufacturer_id=10&option=com_virtuemart&Itemid=62
These 25oz jeans have a much different feel than the IH 25oz. They seem lighter and more slubby. They are unsanforized and are a 15th anniversary limited model. They feature cotton construction that has worn in some areas (see pics); which is typically for the brand. I've worn them in rotation for ~5 months. Three washes.
$200 $175 $125
.
W - 34
FR - 10.5
RR - 14.25
TH - 12.9
KN - 9.25
HM - 8.75
IN - 36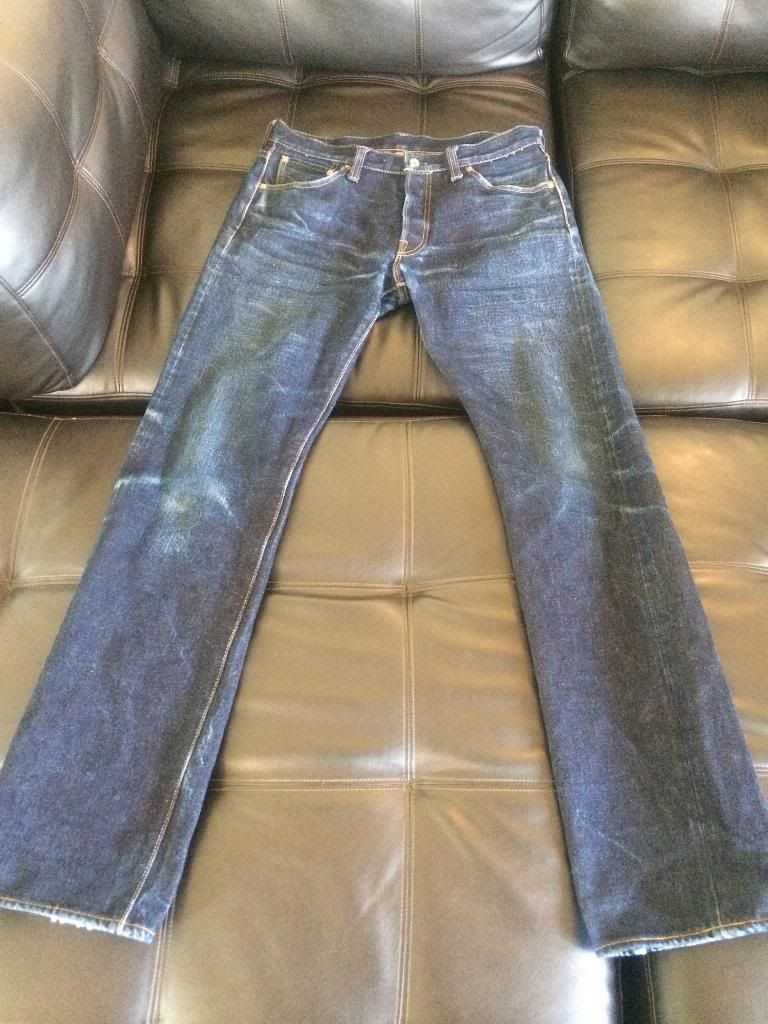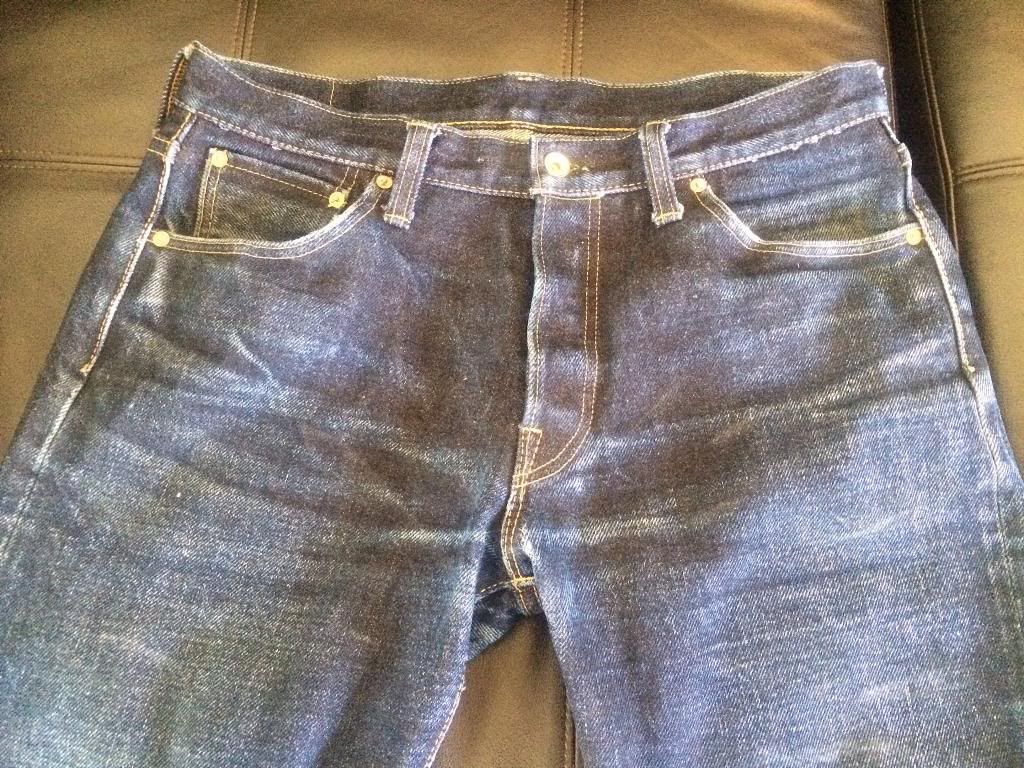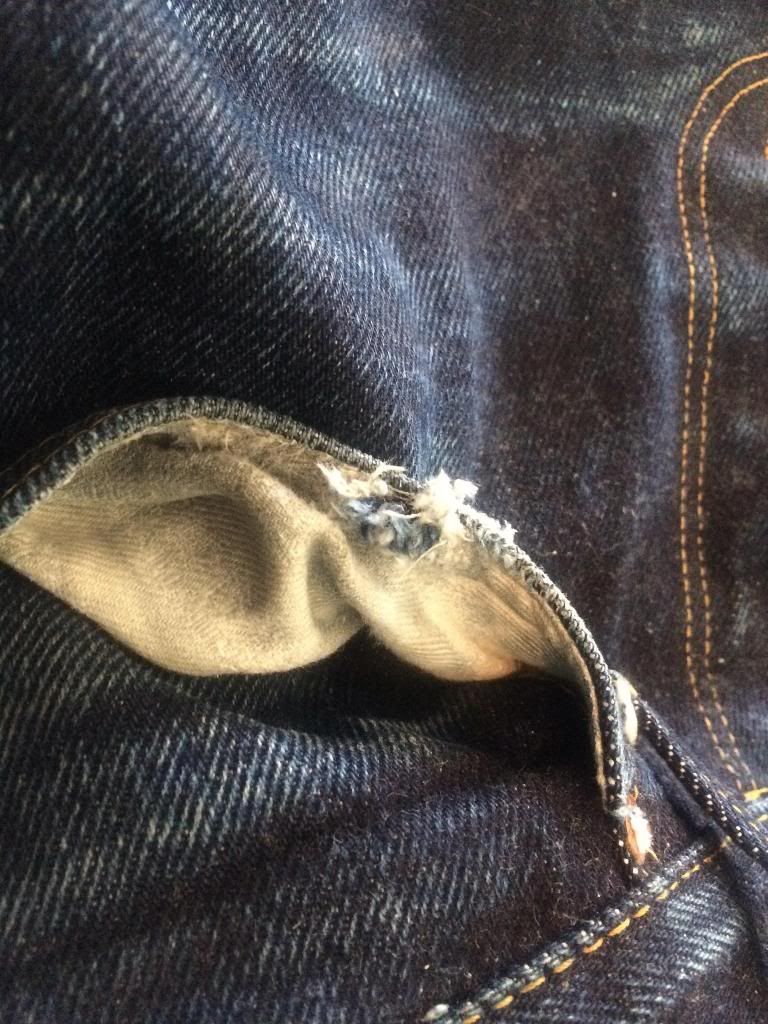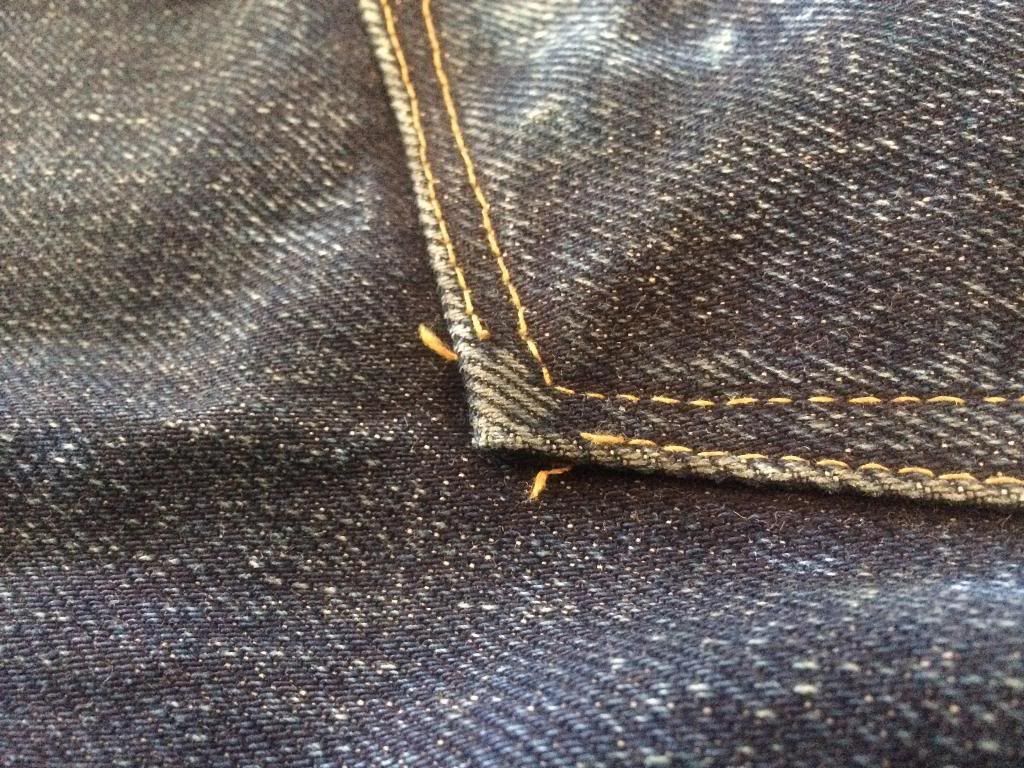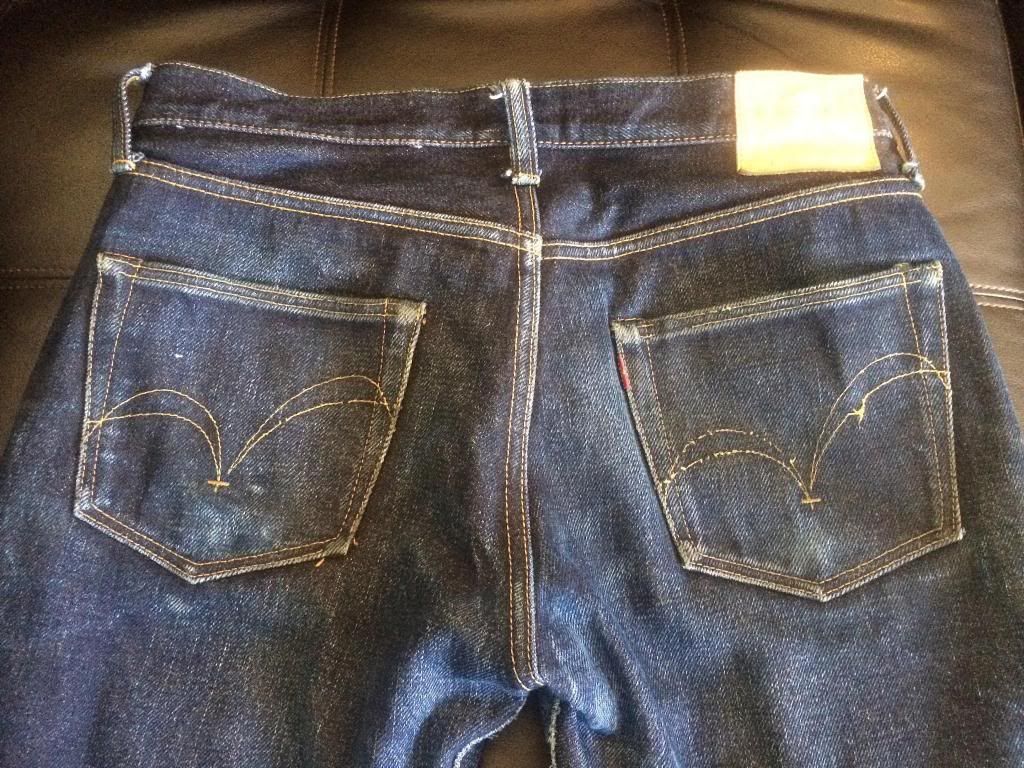 Giles puts it best when it comes to the 73:
...If you have not got one, you need one, they will change your perception of reality......

BEAUTIFUL shirt. Four or five wears. Twice washed to remove any shrinkage. This is immaculate. I'm sizing down like the 62.
3XL IH 73 beige
$220 $200
.
CH - 24.75
SH - 21
SL - 26.75
LG - 30.25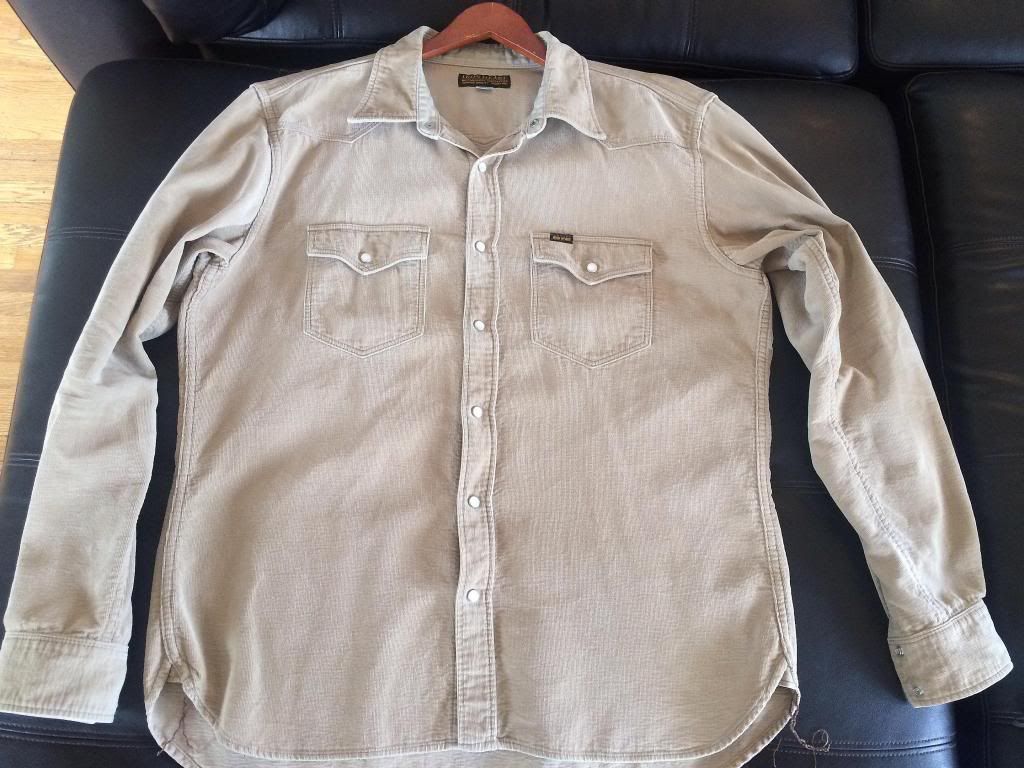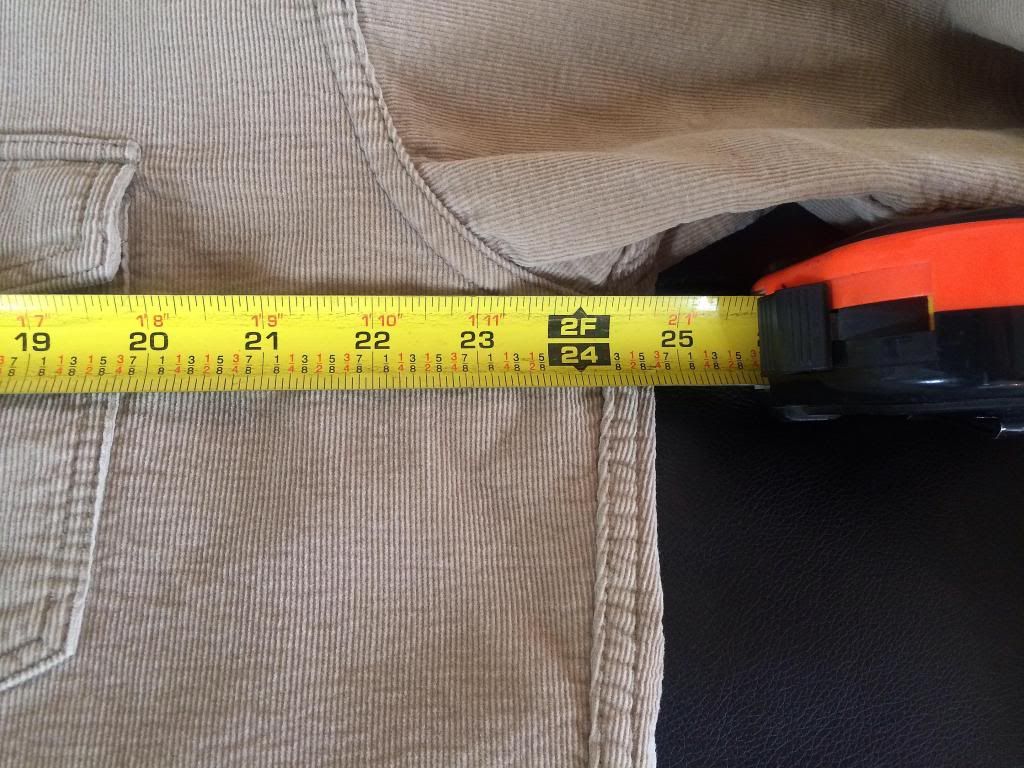 3XL IH 62
-- I've worn this shirt as a shacket, but I already have enough of those. It's hard to guess the amount of wears. Maybe 30? I'm honestly not sure. Four or five washes. I've given it the hot wash treatment, so it won't shrink any further. Some great evo popping through. I will definitely be re-purchasing a 2X at some point.
$150 $125 $99
.
CH - 25
SH - 21
SL - 28.25
LE - 32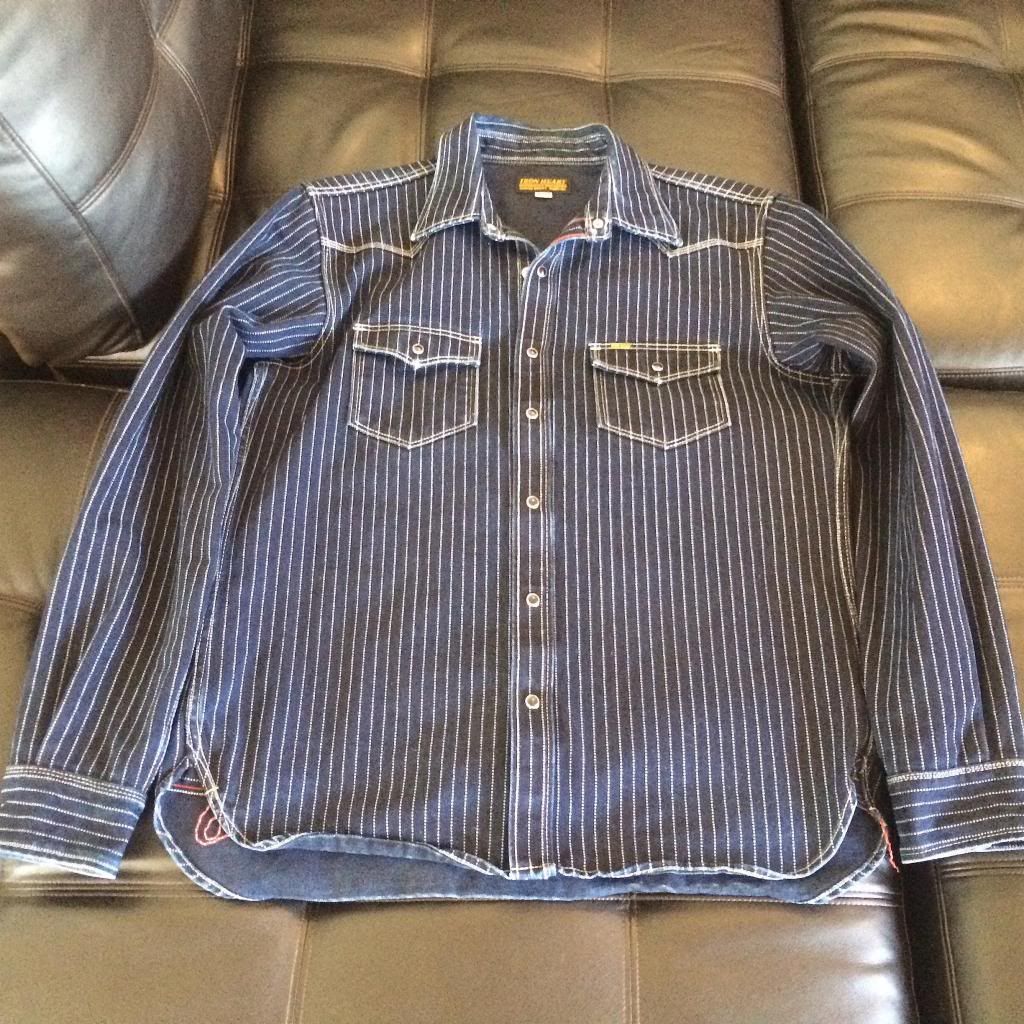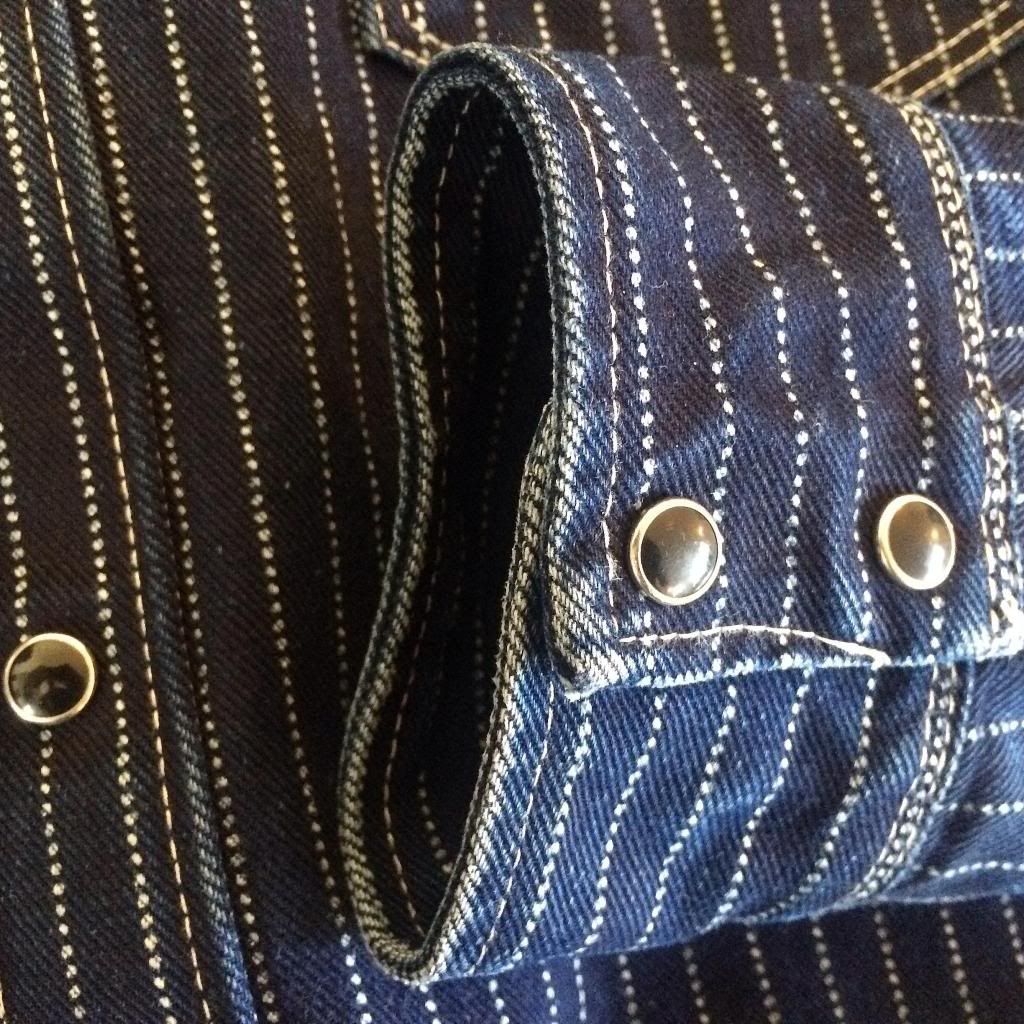 Thanks for looking.
5
« on: January 25, 2014, 03:26:51 am »
Ladies and Gentleman,
It's that time of year, again. As I'm sure many of you remember, last January our fellow forum members initiated a special order Viberg series, with great success. In this thread, you can propose essentially any build you desire. The lone caveat is Viberg requires retailers place orders with a minimum of four pairs of the same design/makeup; so you'll need to find three other takers to get your build made.
- - - - - - - - - - - - - - - - - - - - - - - - - - - - - - - - - - - - - - - - - - - - - - - - - - - - - - - - - - - - - - - - - - - - - - -
I will get the ball rolling: The kind folks at Viberg lent some much-needed assistance in troubleshooting a potential Service Boot last that can accommodate my large feet. Despite the fact that they've never built a Service Boot in my size before, they are confident they can build them in a 2005 last. I am throwing out the following ideas as loose examples. Feel free to run with them. As long as the last is a 2005, I am very flexible.
Classic, Black Service Boot:
I like idea of a black service with no thrills. Something you can dress up or down. Some of the following pictures are cordovan (which Viberg is out of); but I am looking into a leather that polishes up, nicely. I like the thickness of CXL, but it scuffs easily. Again, open to suggestions.
Credit:
Finn666
Credit:
Scottystyles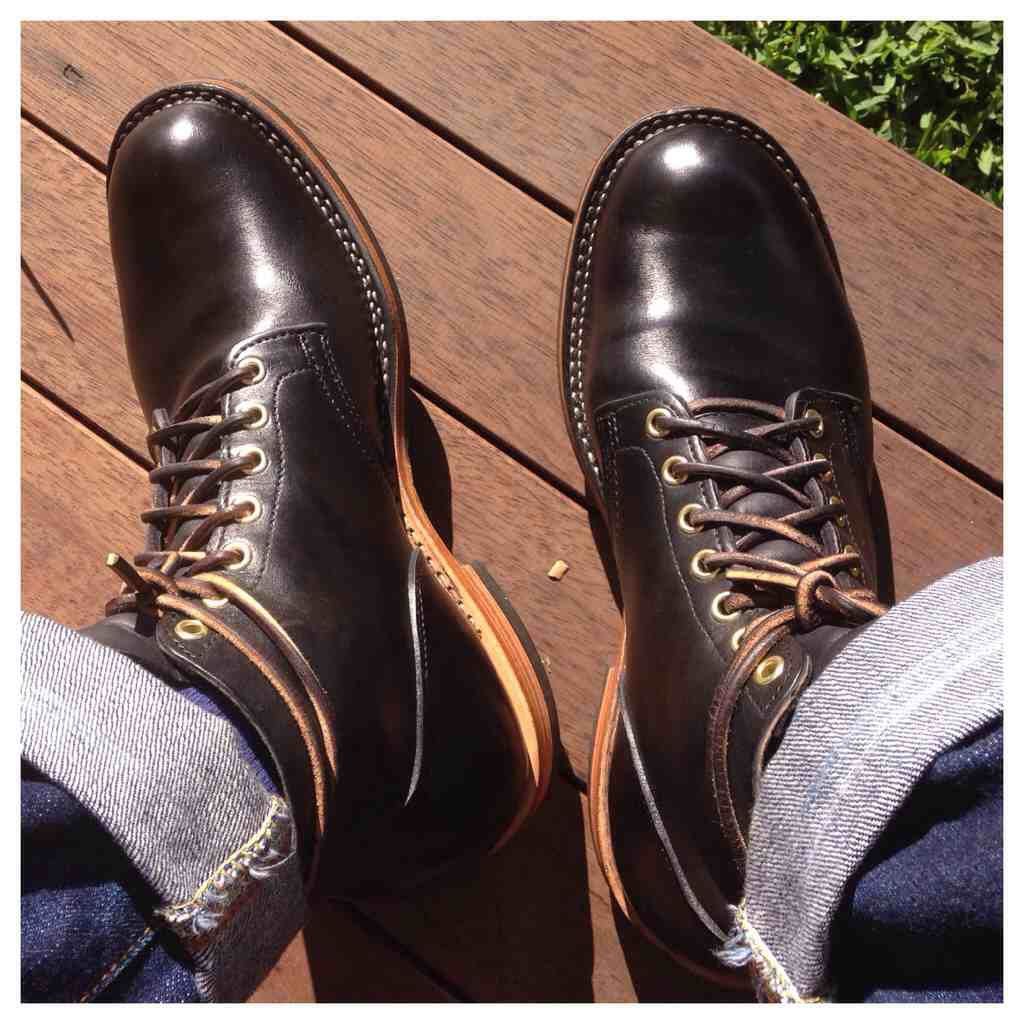 Credit:
Aries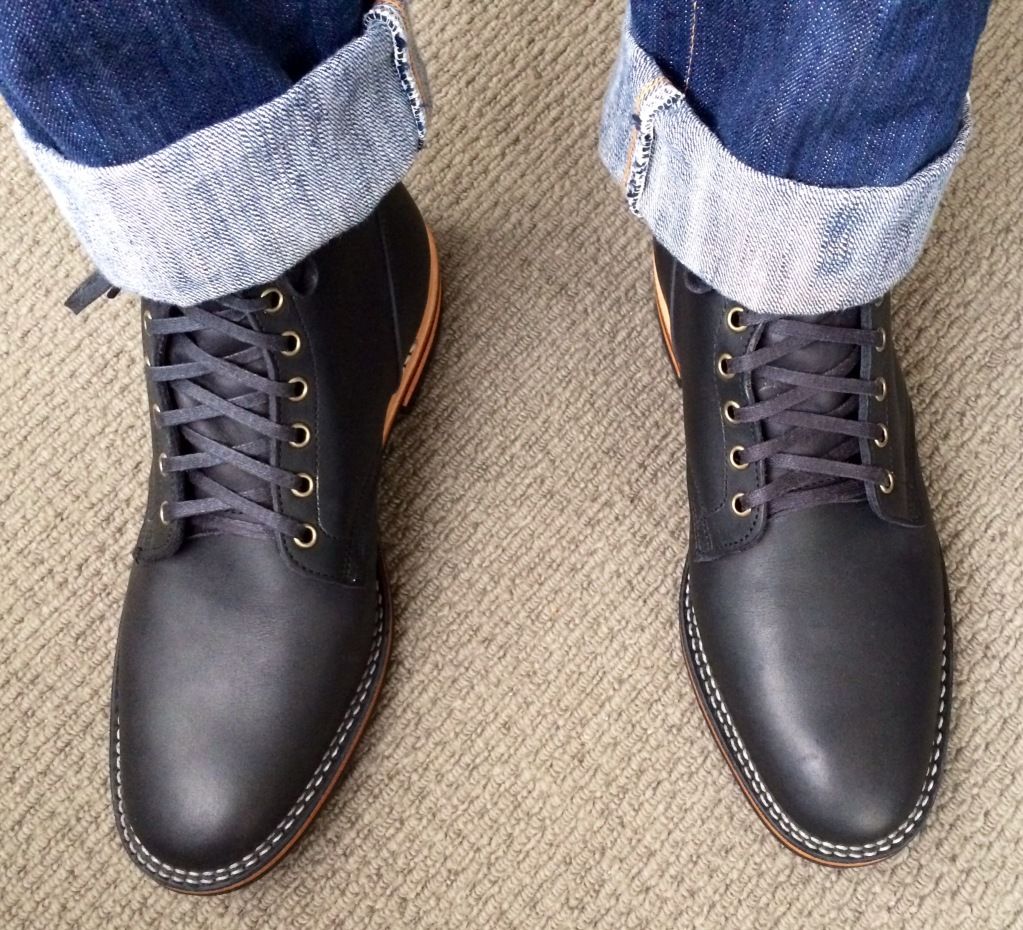 Black/Brown Combination Service:
The first couple pics are of
bornheim
's recent White's build, which received some well-deserved attention. Same build, just Viberg. The latter pics are of some Vibergs with an inverse CW.
White's Version, Credit:
bornheim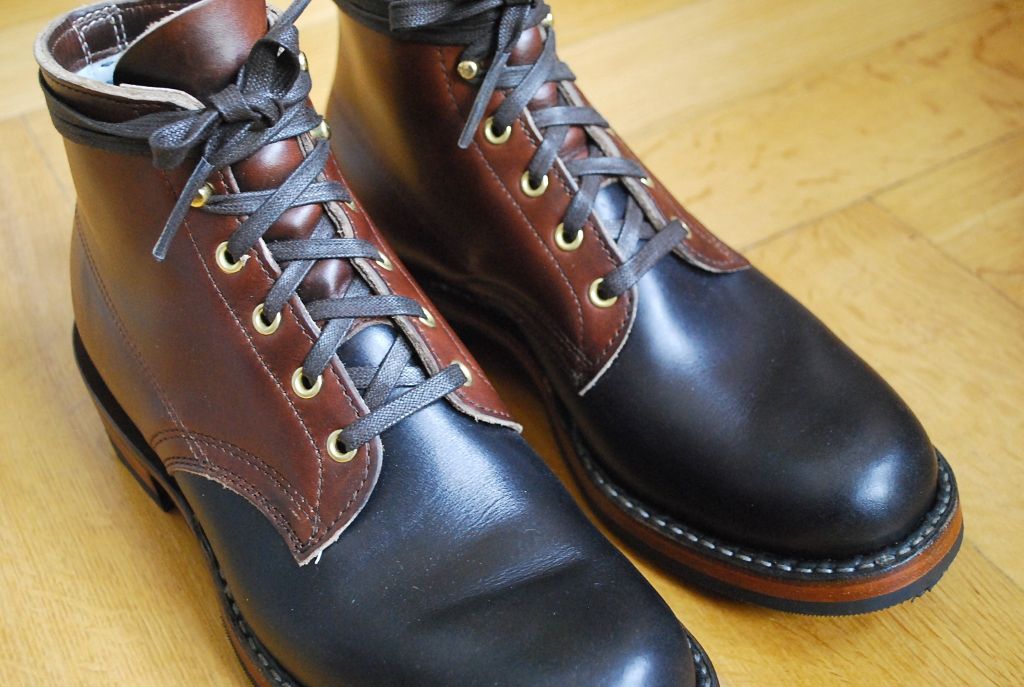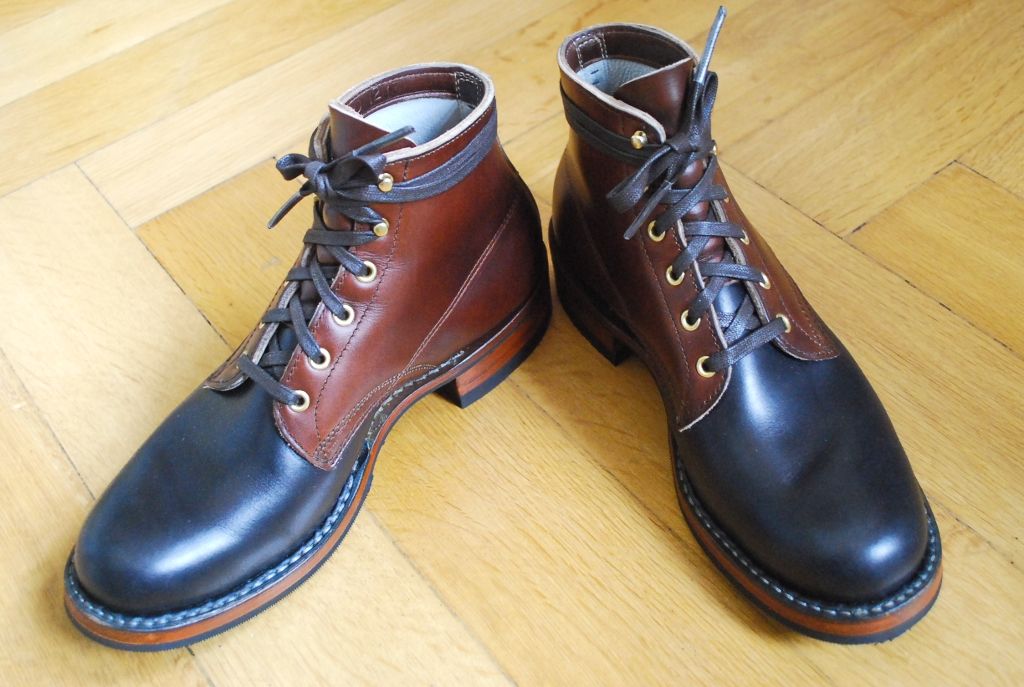 Inverse Viberg Version, Credit:
ChuckDenim
Inverse Viberg Version, Credit:
summ3rhays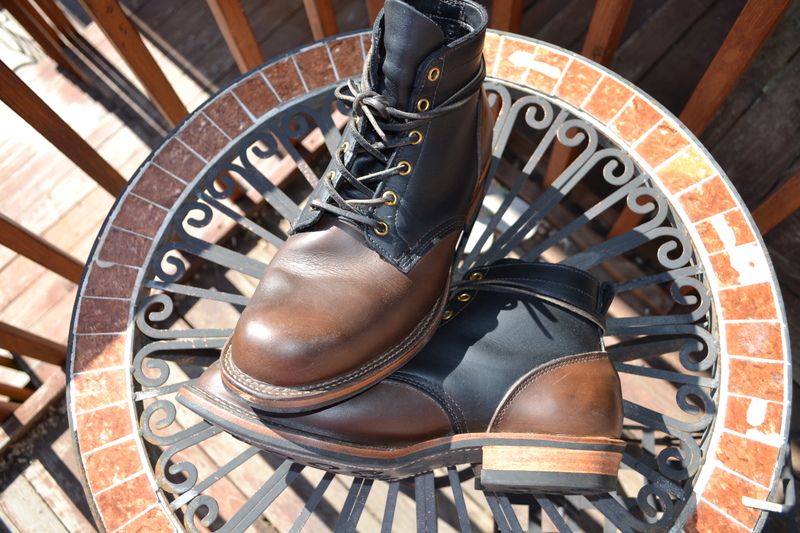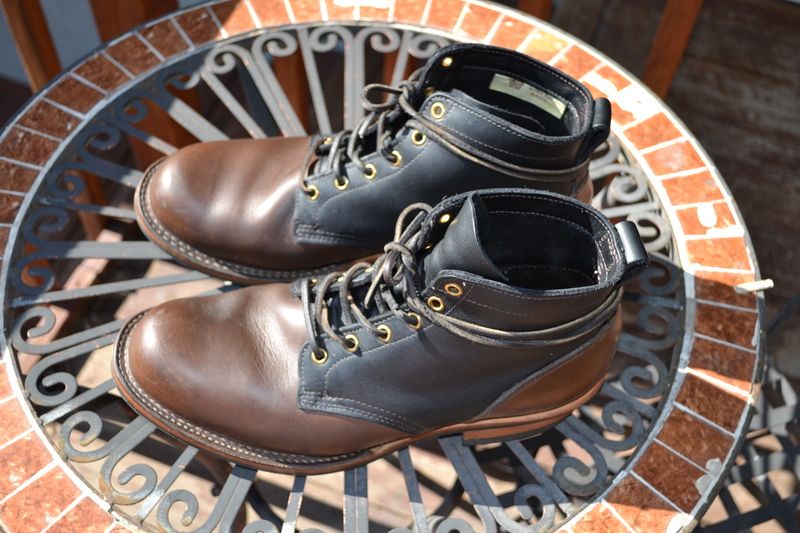 Merlot Service:
Thanks to
G
and
natehate
for inspiration. Beautiful boot. Soft toe, celastic, sprung? They're all good.
Credit:
natehate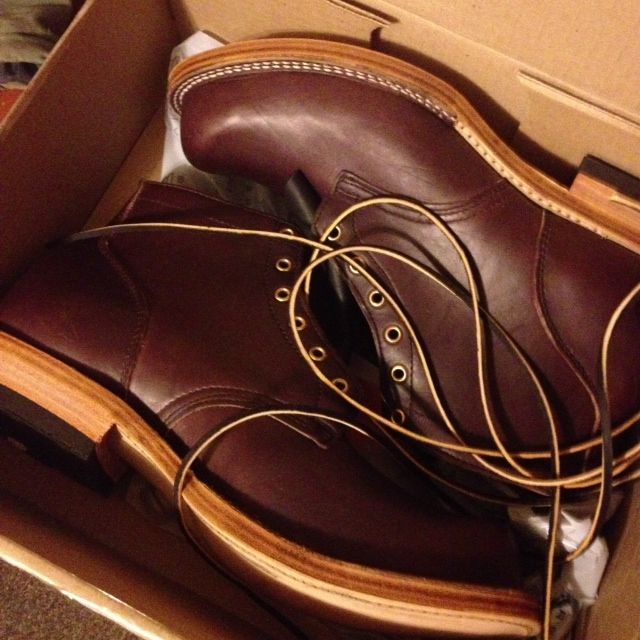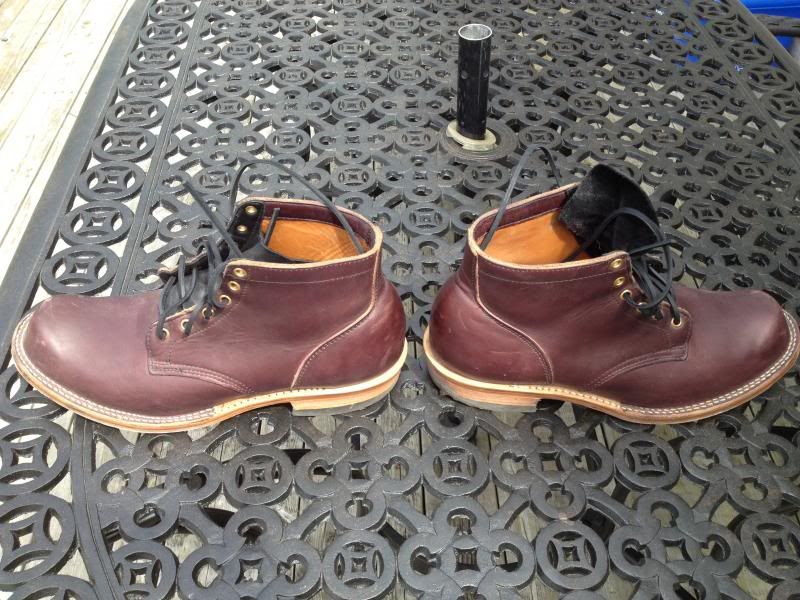 Credit:
Giles
(lower light; well-worn)
Brown or Black Wax Flesh Service:
By now, I'm sure you're all familiar with Jesse's build. They are amazing; they've even inspired a build on that other forum.
trail and arrow
is looking for takers on a Black Wax Flesh Country Derby. Great idea, and boot. If he can't find three others (I am down if it can be done in a 2005,
taa
), a Service might be a fair compromise.
Credit:
Jesselirola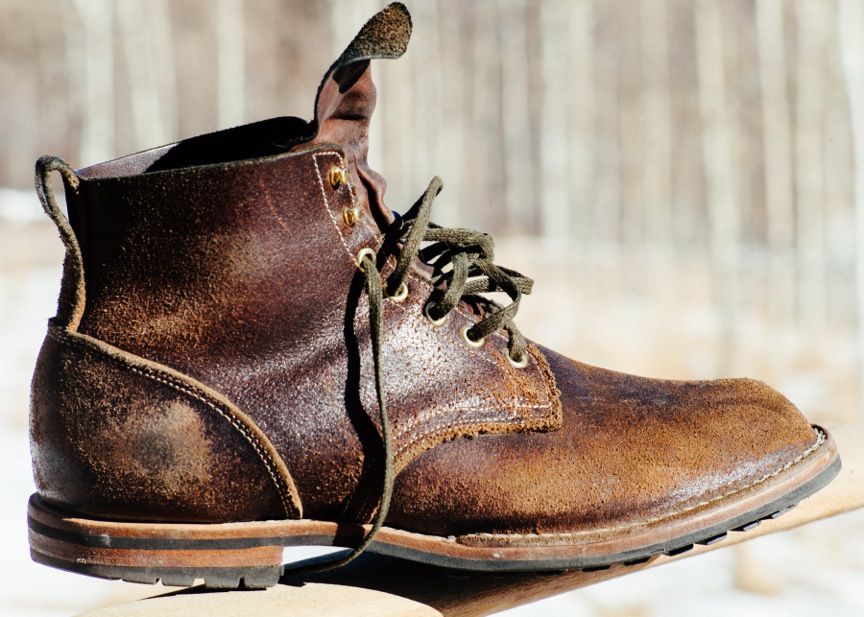 With some dubbin love:
Black Wax Derby, Credit:
trail and arrow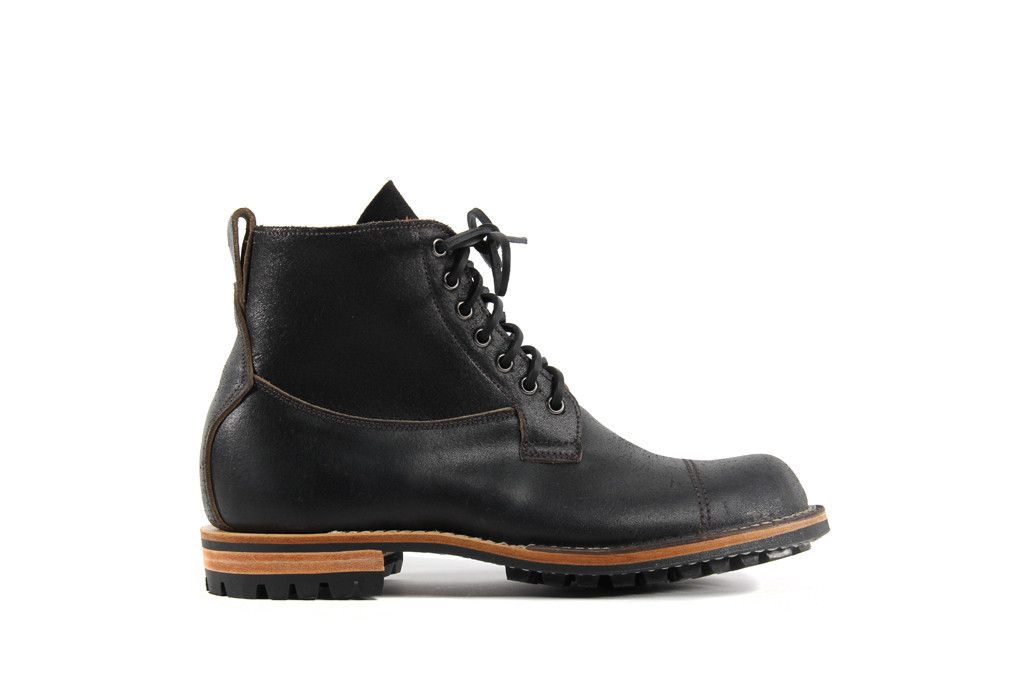 Boondockers:
Need I say more? Natural CXL rough out, leather sole. Slightly different last than the traditional 110.
Credit:
Aries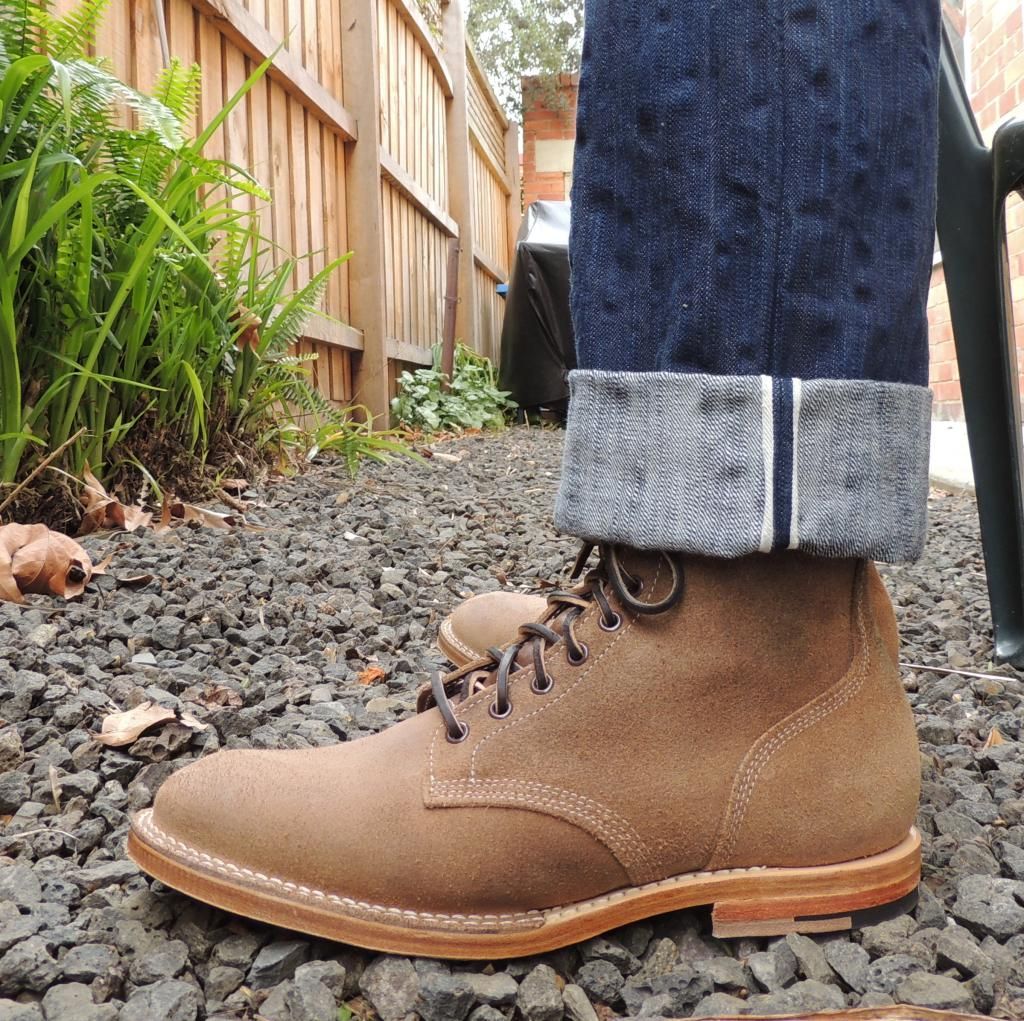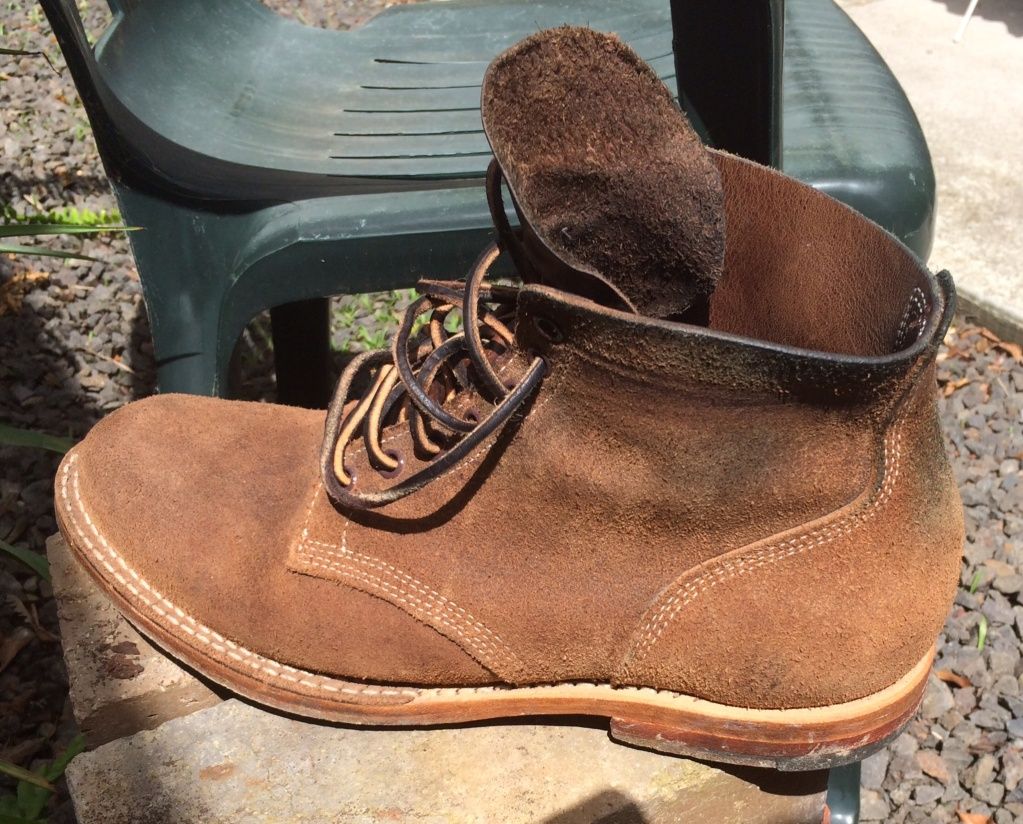 Credit:
Scottystyles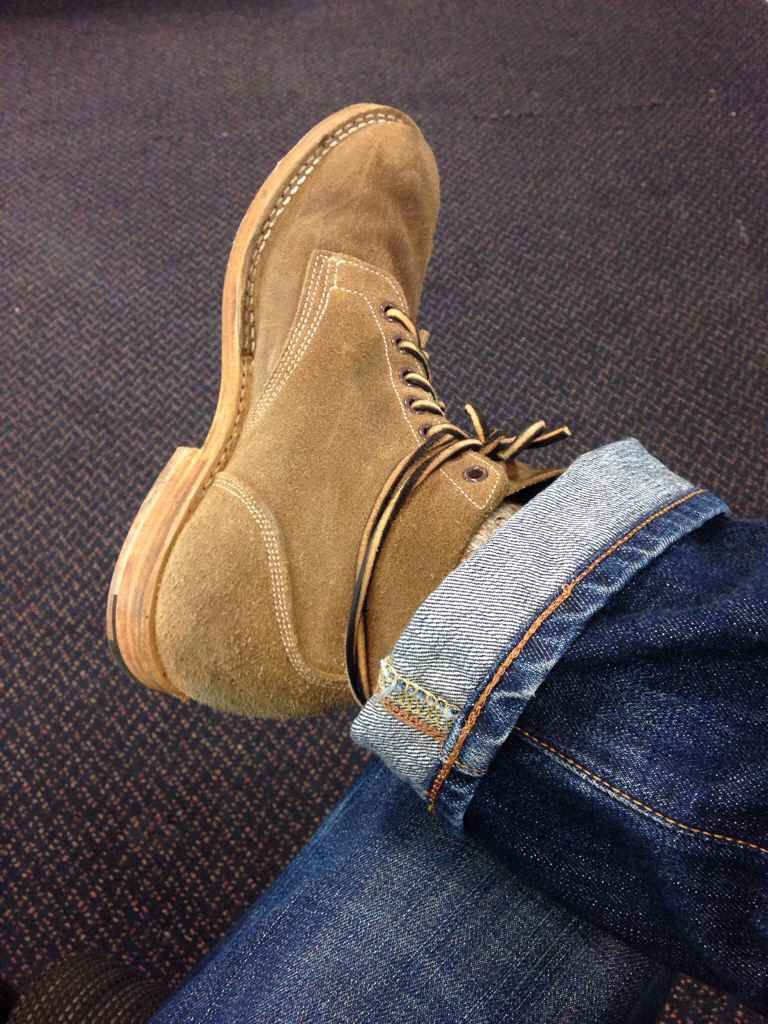 For those with some trepidation about how a Service in a 2005 last might look, fear not. They are sic! Big thanks to
BrownIcon
for posting pics of his Loden Green Service Boots with a 2005 last.
Credit:
BrownIcon
If anyone would like their photos removed, please don't hesitate to PM me. I will remove them immediately.
- - - - - - - - - - - - - - - - - - - - - - - - - - - - - - - - - - - - - - - - - - - - - - - - - - - - - - - - - - - - - - - - - - - - - - -
What build would you like to get your hands on? You have nothing to lose (except maybe a few bucks if you find three other takers), so take the leap and propose something...
EDIT
: It dawned on me that some of our greener members might not be familiar with how this process works. If you are interested in any of the builds I proposed (or a modified version), just state so below, and I will PM you when the time comes for a firm commitment. If you would like to propose a different build, please do. It will be your responsibility, however, to compile names. Giles is NOT collecting names and sending out PMs; he is busy enough. Once a build has four firm commitments, then the initiator should send G a message, and he will handle all the hard stuff (speccing pricing, collecting deposits, ordering, shipping, etc.). If you have any questions, shoot me a note.
7
« on: July 25, 2013, 08:05:49 pm »
IHW-05 -- XXXL
-- It kills me to have to let this awesome Peacoat go. It is truly the best coat I have ever owned. Unfortunately, it was a tad big when I bought it, and I've lost weight since then so now it's definitely too big. I'll put pictures up when I get home this evening, but it's basically new. Worn maybe 3-4 total hours. Priced to move @
$300
, shipped in CONUS.
I apologize for the horrible pics, but this is the best late-night iPhone photos I could grab. Hopefully, you get the idea, though.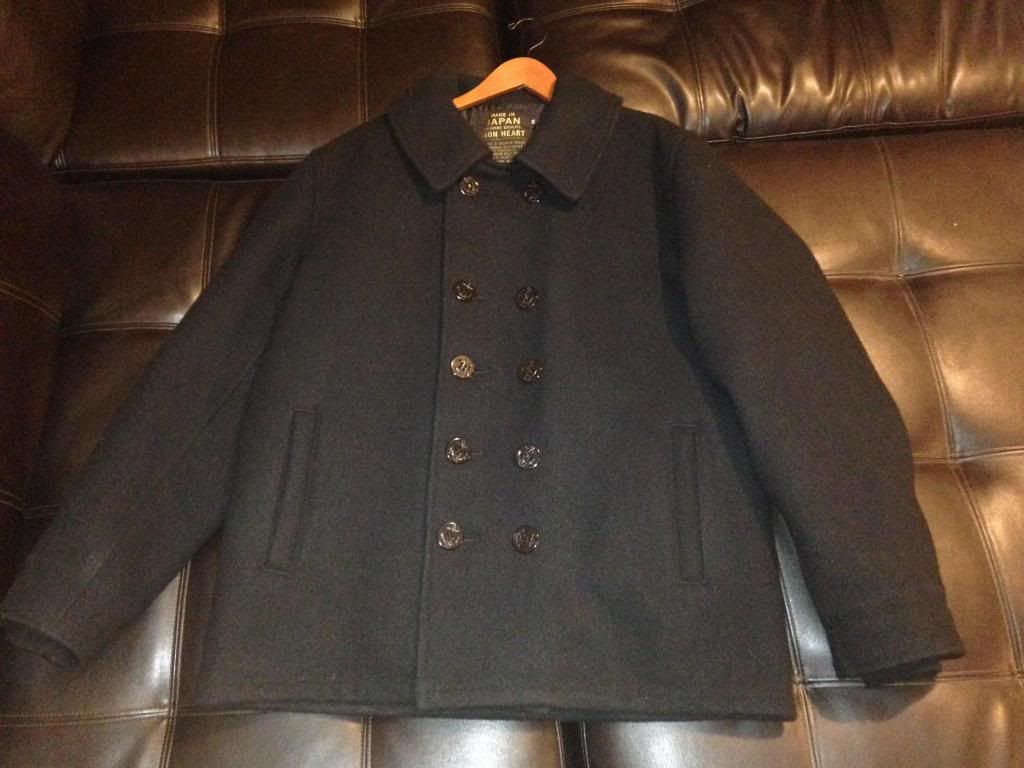 Measurements:
p2p: 26"
SH: 22"
SL: 27"
L: 31.5"
***Also, baseball fans, I have a 100% authentic Cal Ripken Junior 2131 autographed bat from the night he broke Lou Gehrig's record. He only signed 2131 bats that night, and this is one of those bats. It's serial numbered and comes with a certificate of authenticity. It's a great office/conversational piece of memoribilia. I was going to throw it on the bay next week, but I figured I'd mention it here on the forum first. Obviously, I will hook up a better deal for forum members than strangers on eBay. PM for pictures and feel free to ask any questions you like.***
8
« on: April 04, 2013, 10:01:15 pm »
Today was another successful installment of blue bag day -- save for one item. I was a bit worried that this T wouldn't work for me, and my fears were unfortunately confirmed. The graphic, while brilliant in design, is bluish-purple in color. Let's call it blurple, and when combined with the black, looks basically like my rival state university's colors. I played ball for my school and calling them "blood rivals" would be putting it mildly. It is my home state's version of the Yankees and Red Sox, or Man U and Chelsea. I would rather die a slow, painful death than wear black and purple.
My loss is your gain, though, as I am listing it for
$110, shipped, in the CONUS
. PayPal gift, or add 4%. The T is brand new and hasn't even been removed from its wrapper. I can even send it in the blue bag, if you like.
This colorway is sold out, in this size, and presumably extinct. It will cost me less to ship it to you, than mail it back to the UK; so I figured I would try this method first. Help me essentially exchange it for another available model.
Just an FYI, I received three other 10th anniversary Ts, and they are top notch. After a bit of stretching, I don't imagine I will wear anything else. The quality is on point, and the sizing is accurate.
Please inquire via PM.
Here's a look at the sales page:
http://www.ironheart.co.uk/cutnsewn/iht-13xx.html
And the T itself:
Thanks for looking.
9
« on: December 19, 2012, 05:17:58 am »
Hello, thank you for taking a look at my sale. These are two basically new shirts (~10 light wears each) that I love, but, unfortunately, they are just too short and are really activating my OCD. These are my two favorite IH shirts, so I plan on repurchasing them one size up. The 13 has never been washed, and the 73 has been washed once -- inside out, delicate, no spin, Woolite delicate -- to remove some light indigo transfer from my SEX13s. It looks good as new now. I initially didn't notice they were short because my arm is in a sling and it throws off the fit. I would just rather have one shirt that fits perfectly than two shirts that fit pretty well (yes, I have more IH shirts, but you know what I'm saying).
*I apologize for the bad photos. I have poor artificial lighting in my
sex dungeon
doomsday bunker
current residence, and I know nothing about photography.
XXL IH-13 (Pimped with MOP snaps) $210, shipped CONUS w/FedEx + tracking
Actual Measurements (per Tom's measuring guidelines):
Shoulder: 19.5 in.
Length: 30.3 in.
Chest: 24 in.
Waist: 22.5 in.
Opening: 23.5 in.
Arm: 26 in.
13 Front Hang (No Flash)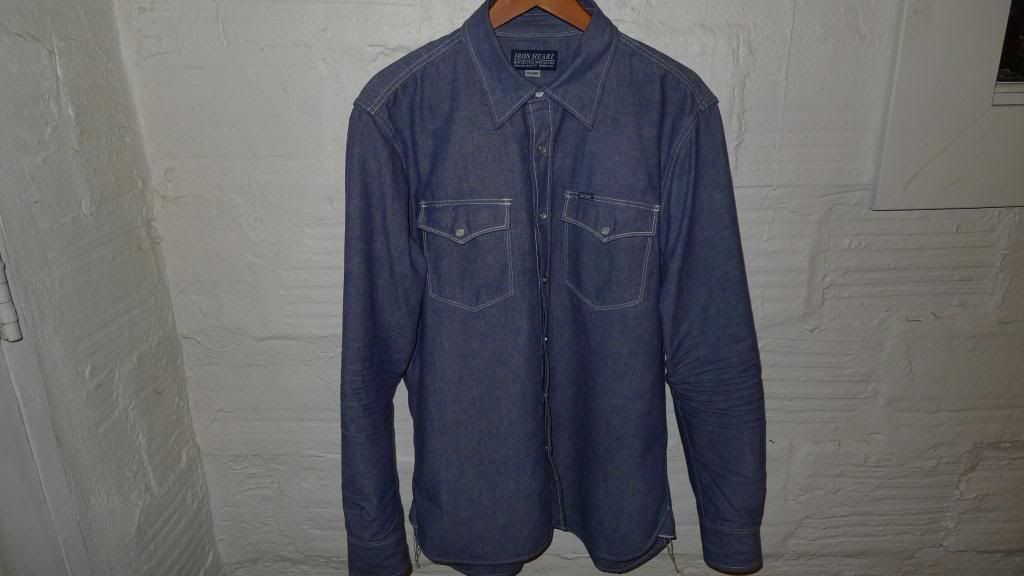 13 Back Hang (No Flash)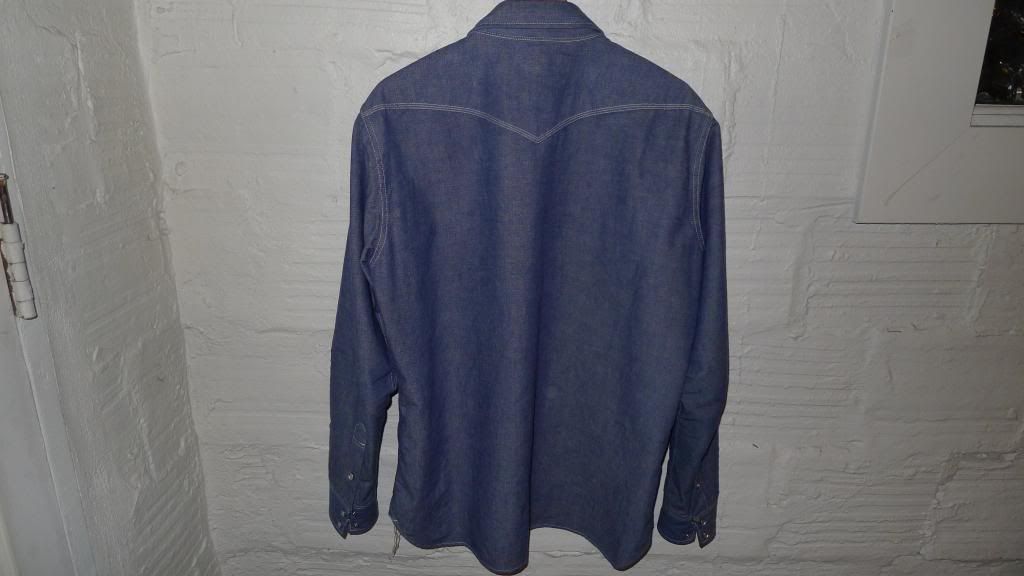 13 Front (Flash)
13 Back (Flash)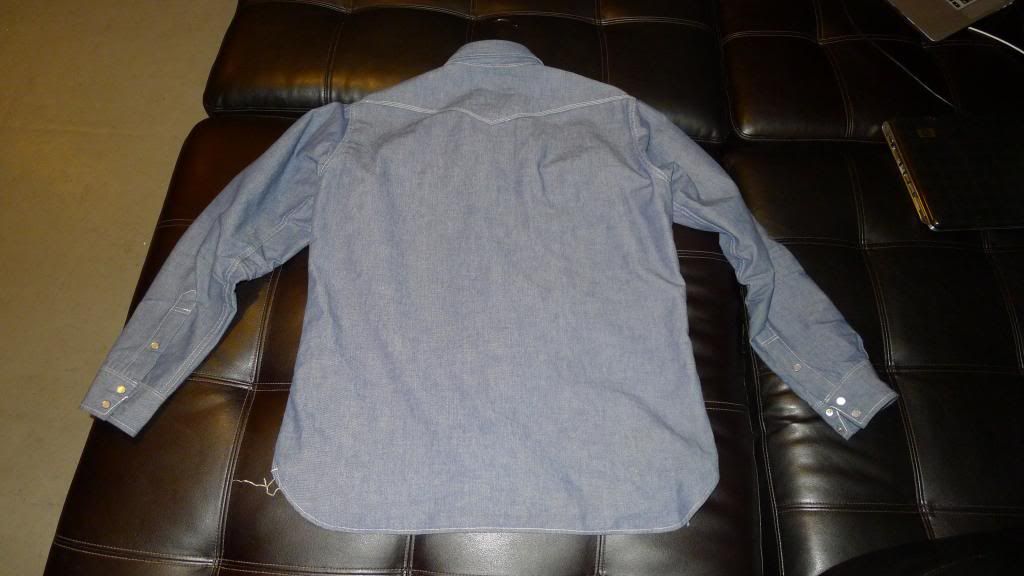 13 Tag (Flash)
13 Pocket (Flash)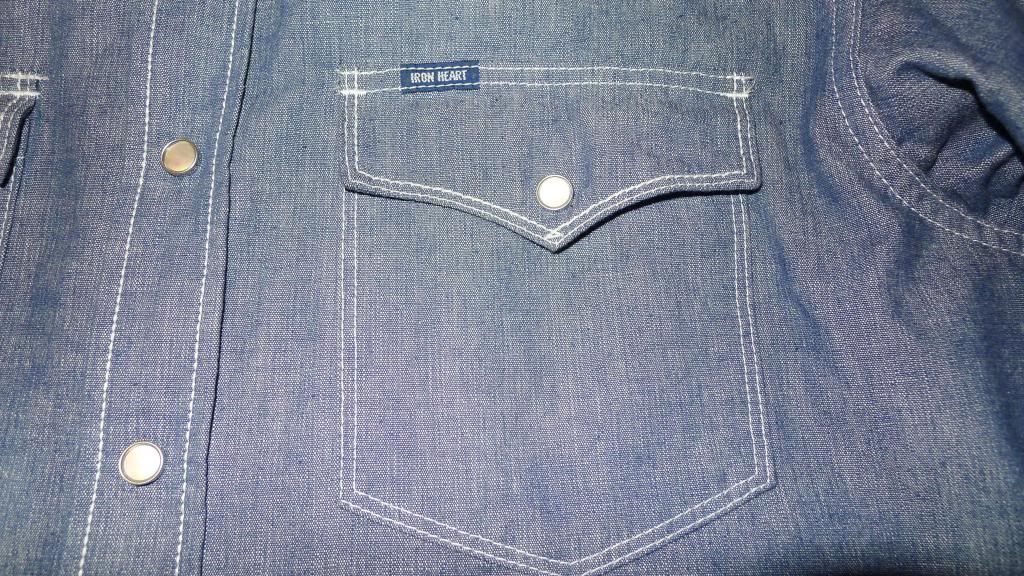 13 MOP Snap (No Flash)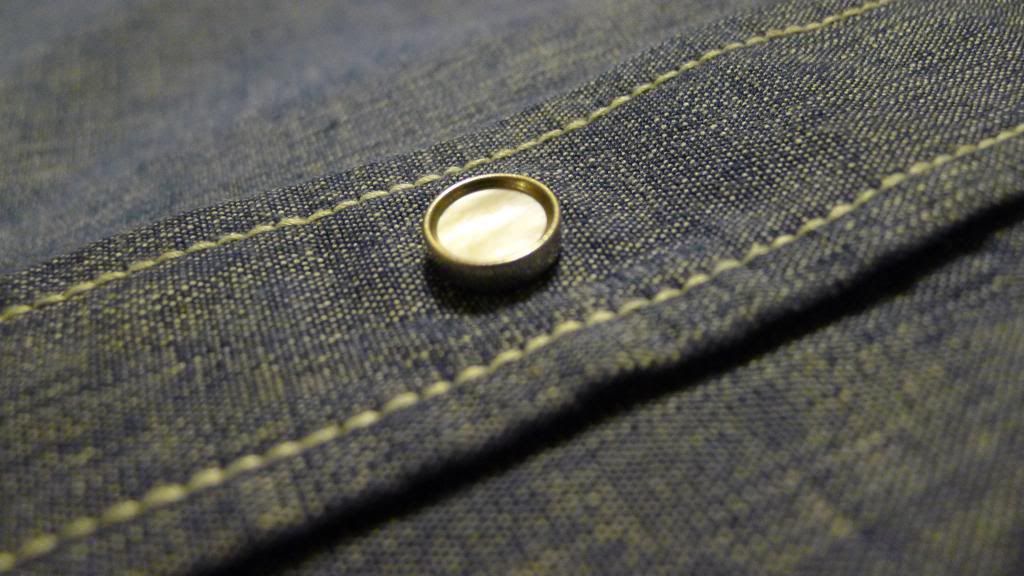 XXL IH-73 $225, shipped CONUS w/FedEx + tracking
Actual Measurements (per Tom's measuring guidelines):
Shoulder: 19.5 in.
Length: 30.3 in.
Chest: 23.5 in.
Waist: 21.5 in.
Opening: 23 in.
Arm: 26 in.
73 Front Hang (No Flash)
73 Back Hang (No Flash)
73 Front (Flash)
73 Tag (Flash)
73 Pocket (Flash)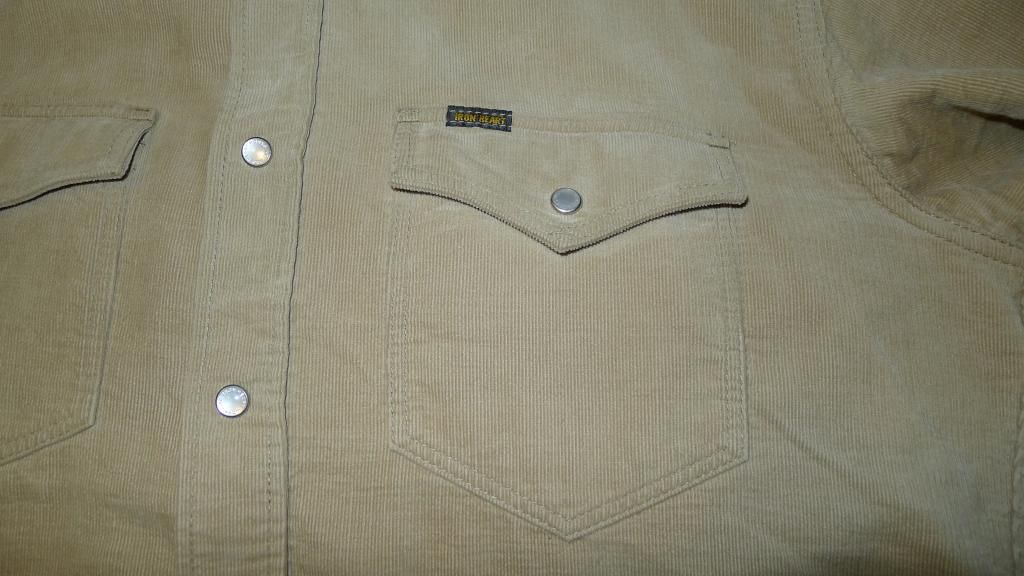 >>Please PM if interested. Paypal Gift or +3%. Thanks again.<<
10
« on: December 14, 2012, 09:50:38 am »
Okay, I really hate for this to be my first post. I have been spending a pretty fair amount of time on this forum over the past two months, and had hoped to spend a couple more months just reading and learning before my first post. Unfortunately, I have lost a tremendous amount of weight (15+ lbs.) over the past couple months, due to shoulder surgery and relative inactivity. These two pairs were my first foray into premium heavyweight denim (besides overrated rags like PRPS, etc.), and I severely underestimated the amount of stretch that would occur in the waistline. I am probably a true 36.5 - 37, and have always just sized up in the past for comfort. I am currently swimming in these jeans with the recent weight loss and stretch, and after hand-drilling a hole in my belt (don't worry, it was a mediocre Cole Haan) I have decided that it's probably best to part with the two greatest pairs of jeans I have ever owned. I am not very happy about it, but I can fit a fist in between my hips and waistband and I feel like selling is the right thing to do. I recently parted with my camera, so I don't have pictures at the moment (they will be added in the next week or so -- when I can get another camera -- if the jeans don't sell), but I'm sure I can borrow one if somebody would really like pics.

Both pairs have been worn lightly over the last 6 weeks. Probably 15 wears each, in casual settings. They haven't been worked in yet, and are basically new. All rigidity is gone, but there are no signs of evo yet. These jeans are unhemmed and are in like new condition. The lone exception would be some minimal surface splintering on the super-thick leather patch on the 23 oz. SE collab. It is only on the outer surface, and, truthfully, just really enhances the look. The splintering was due to a hot soak, which both pairs were exposed to in order to remove any excess shrinkage. Neither pair has been washed.

Typing this is painful (I'm sure reading it is too), but I feel like they are so large for me now that they look ridiculous. I am creating this listing a bit prematurely -- before I can get my hands on a camera -- due to the SE sale this weekend, and am hoping to replace at least one pair before I do my Christmas traveling rounds.

I am happy to answer any questions; just shoot me a PM. Payment should be sent via Paypal. I will mail the package anywhere in the US, FedEx Ground, with tracking, the same day as payment clears. I am also willing to ship internationally, if needed, but have never done so and would need to have my hand held a bit. Thank you for taking the time to read my listing, and I apologize for the lack of photos. (See current measurements below; per Tom's measuring guidelines)

634s-SEXIH13

WAIST: 19 in.
FRONT RISE: 12 in.
REAR RISE: 15.5 in.
THIGH: 14 in.
KNEE: 10.2 in.
LEG OPENING: 9.8 in.
INSEAM: 36 in. (Never hemmed)

634s-B

WAIST: 19 in.
FRONT RISE: 11.5 in.
REAR RISE: 15.8 in.
THIGH: 14 in.
KNEE: 10 in.
LEG OPENING: 9.5 in.
INSEAM: 36 in. (Never hemmed)

*There are some minimal cuff lines about 3.5 inches from the leg opening on both pairs. These will settle over time, however.

Pages: [1]