Show Posts
This section allows you to view all posts made by this member. Note that you can only see posts made in areas you currently have access to.
Topics - jdl1279
Pages: [1]
1
« on: January 23, 2014, 05:20:52 pm »
In hanging around here I have been inspired to take a better look at my closet. Some of what is in there I am realizing I can live without, while more is finding new appreciation. But what do you do when you find that item that there is no way in hell you're getting rid of, but you can't possibly wear all the time. Hats tend to fall into this category for me more often than I like, and in today's case that is just sad. This hat has had a interesting life and to just let it set in my closet is really a travesty. So looking at it this morning I thought, let's send the bastard on one final World Tour! So anyone interested?
It's a size 7 Custom 10X hat, the crown is creased shallow but can easily be punched out if too much. Despite the wear and tear this thing is in great shape and deserves one last trip around the horn.
We can handle this like most other World Tours, take it wear it a bit, sign/initial the liner, pass it on. I want to see this thing make it to places I haven't. Like other WT, I fully accept the possibility it could be lost, stolen, damaged, etc.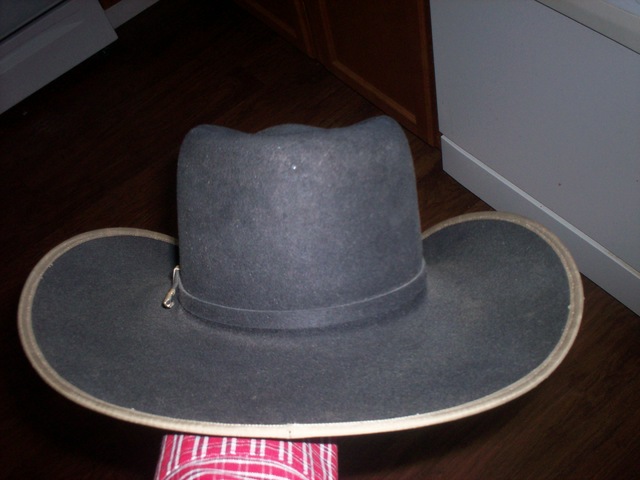 So anyone want in on the cowboy action?
2
« on: January 14, 2014, 02:21:29 pm »
After a previous failed idea, I went through every thread I could trying to find a proper place for this. If there already is one I will be ready to burn my computer. In finding my way around here, I noticed something missing. Some of the things one might get asked about which reveals a lot about a person are not always immediately evident in fit photos. First and foremost for me would be scars, injuries, and the stories that come with them. Now some here have some notorious battle wounds from life, but many not so much. In trying to better get to know everyone, I thought it would be apropos to have a place for such that might help with knowledge of each other, as well as encourage contact among those that might glance over one normally.
The idea is this, if you have a scar, post a pic. Others can try to guess the injury and how you got it. If no scar, post a description of the injury (ie broken leg, torn muscle, etc) and the group can try to guess how you got it. Don't leave everyone hanging though, the point is to share and learn from each others war wounds. As much as I like ink and clothing choice, nothing says character more than some gnarly scar tissue. So what does everyone think, can we get on with the war stories and/or hilarious guesses?
To kick things off, the reason I can't button the top button on any shirt.
Pages: [1]