Show Posts
This section allows you to view all posts made by this member. Note that you can only see posts made in areas you currently have access to.
Messages - 1fookntitefd
106
« on: November 05, 2014, 06:07:36 am »
Looking slick , those denims will fade beautifully . How long you been slapping and kicking on a kit ?

Had the car for 15+ years....had the kit for about 9 years?
107
« on: November 05, 2014, 04:53:57 am »
108
« on: November 05, 2014, 04:40:56 am »
Hahaha nice. Took a guess after reading your name. Good lookin car dude and welcome

Good guess and thanks!
109
« on: November 05, 2014, 03:39:44 am »
They look good dude.
Weird question: do you own an RX-7?

Indeed I do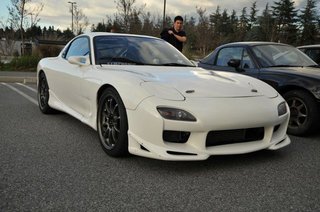 110
« on: November 04, 2014, 05:17:45 am »
111
« on: March 22, 2013, 04:10:32 pm »
How do you thrash your jeans like that in only 7 months???
113
« on: March 17, 2013, 03:41:46 am »
So when should i do my first wash? Ive owned my jeans for about ( months now but only get to wear them 3 times a week...
114
« on: February 19, 2013, 12:19:01 am »
Thinking of getting a pair of these (in beige/khaki) to replace my worn out banana republic khakis to wear around the office...I wear a size 36 634s, any recommendations on sizing? I'm looking for something fitted but not tight (ideally something a little tighter than the 634s)... I am also considering getting the IH 702. What is the different between the 816 and the 702?
115
« on: February 18, 2013, 07:27:46 am »
I washed mine Friday. Absolutely no shrinkage to speak of.

The waist was tighter for about 30 minutes and they've stretched back out and are now the exact same. Also all the creases reset in the same places.

Thanks guys... Does it make a difference whether I machine wash or hand wadh?
116
« on: February 17, 2013, 07:41:09 am »
Hi everyone I am new to this forum but not new to ironheart. I have a pair of 634s that I've been wearing the past 6 months and I think that it is getting ready for its first wash. How much shrinkage if any, can I expect for the inseam? I have the jeans hemmed to the perfect length and want to avoid shrnkage there if possible. Would hanging the jeans upside down to dry help?