Show Posts
This section allows you to view all posts made by this member. Note that you can only see posts made in areas you currently have access to.
Topics - sabergirl
31
« on: May 12, 2016, 06:02:42 pm »
The prices are low, but don't be afraid to offer! All of these prices are inclusive of shipping in the Continental US, otherwise, let's talk about a shipping cost. Thanks for looking.
Left Field Cone Charle Atlas, size 34. I really like the fit of these, but don't really wear them anymore, as I find cone denim kind of boring. $40 shipped, CONUS.
Agave Denim, size 38.
Beautiful brown super-soft broken twill. These have some stretch/spandex, too. I've barely worn these, but they have been machine washed, and bled like a mother, so that may happen again. Made in the USA. I would like $35 shipped, conus, or a bit more for international shipping.
Indigo Farm sashiko vest, size Large. I love this piece, it's just way too big. Bought off Grailed. $40 shipped, CONUS.
Wahmaker frontier dobby pullover, size Small. Mandarin collar, old-fashioned yoke. I thought I was going to wear this? $20 shipped, CONUS.
Sugar Cane dobby ss, size Medium. This has been washed, and dried. Could benefit from a good iron. One of the placket buttons is missing. Beautiful fabric! $40 shipped, CONUS.
Sent from my iPhone using Tapatalk
32
« on: January 02, 2016, 07:51:22 pm »
All sold. Lock it up
33
« on: October 29, 2015, 05:38:05 pm »
SOLD
SOLD. Thanks!
Sent from my iPhone using Tapatalk
34
« on: May 20, 2015, 10:38:41 pm »
I feel my obsession...er...collection, has reached a respectable level.

Bottoms:

634s x2
6634 black(chopped)
463s
9301s
703 OD
705 olive
706 olive(chopped) & khaki
714 olive
716
666 xhs x2
777D
PIH5DCT
TW 5240 future indigo stretch sample
801 black
814 indigo
816 navy
822
888S-RE
888 XHSMB
888 SST
IHDR-502
IHSW-35



Tops:

04-blue & gray
10-blue
11-green
19-orange & green
20-blue & gray
23-purps & red
30-green
31-brown
38-green
47-brown
51-navy
59-black
61-olive
64-black
68-indigo
101-purps
107-black
126-purps
130-red
137-blue
141
157-burgundy
162-olive
208-indigo
216-tan

IHSW-23-black
IHSW-34-gray
IHTL-1301-BLK
IHT-1600-black x2
IHT-1610-GRY
IHT-1610L-OLV
IHTL-1501-black
IHTL-1700-gray
IH stripey border T
IHT-v neck black
IHT ice dye ala adam313

IHM-03 black
IHJ-08
IH 526 sbg
IH 4526J
IH 7526J

Misc:

IH-CAP motors
IHC-06
IHC-14
IHC-16-olive
IH tote-denim
IH guardian bell mug
IH 10 year forum mug
IHG-083

Sent from my iPhone using Tapatalk
35
« on: March 03, 2015, 08:48:45 pm »
I got some PBJ jeans for the missus a while back, but sadly, she doesn't like the fit. They are the indigo stretch 1069, size 2.
Waist: 14.75"
Front: 9"
Rear: 12.5"
Thigh: 9.5"
Opening: 6.25"
Inseam: 28.5" chainstiched
They've barely been worn--washed/dried, maybe once. Plenty more detailed pics available, if you like. $150
Second up is my Dad's fave varsity jacket that he purchased aroun 1989, and wore a lot through the 90s. It's indigo wool on the front, green leather on the back, and has tan leather sleeves. Definitely an 80s cut, marked XL. $80
P2P: 27"
Opening: 18.25" (stretches)
Length from bottom of collar to hem: 26.5"
Sleeve from shoulder to cuff: 26.5"
Shoulders across back: 22"
Sent from my iPhone using Tapatalk
36
« on: December 19, 2014, 11:59:32 pm »
No schtuff left to give away, at the moment.
37
« on: May 31, 2014, 10:09:24 pm »
Lindland's Cordarounds, size 38 -- $50 shipped. These are unique, handmade in San Francisco. Fine wale, lightweight khaki horizontal corduroy with contrasting light blue patterned waistband and pocket bags. They have some staining on the hem, but are otherwise in good condition, except for a couple loose threads.
waist: 19.5
thigh: 14.5
inseam: 34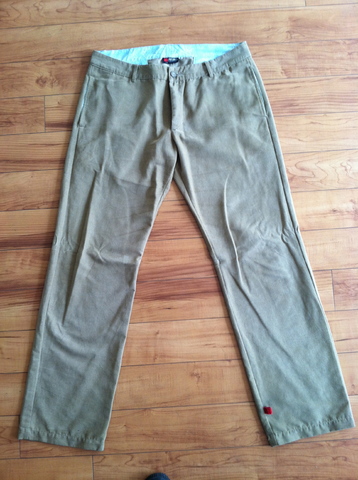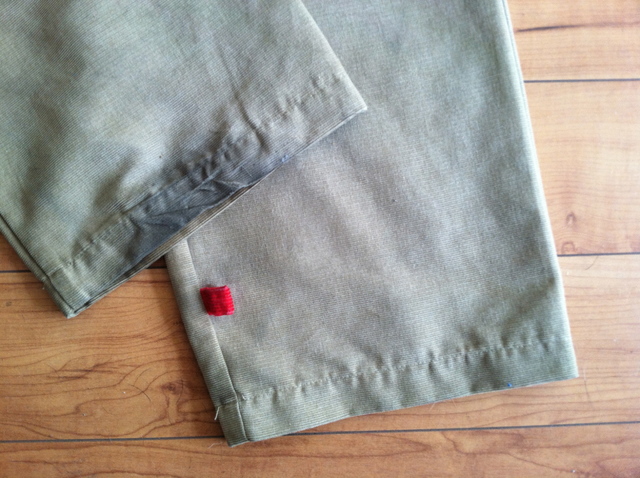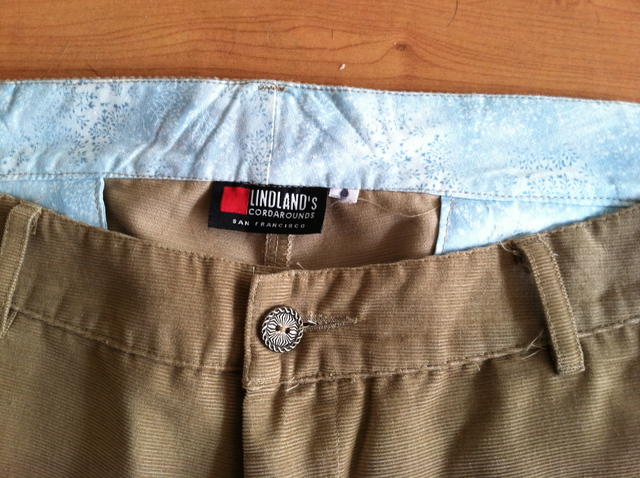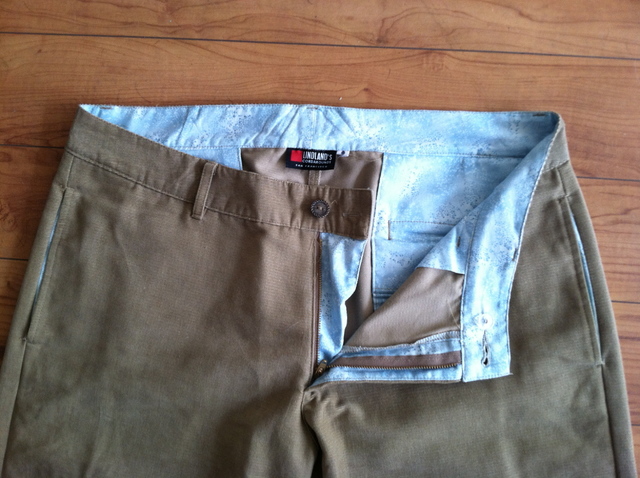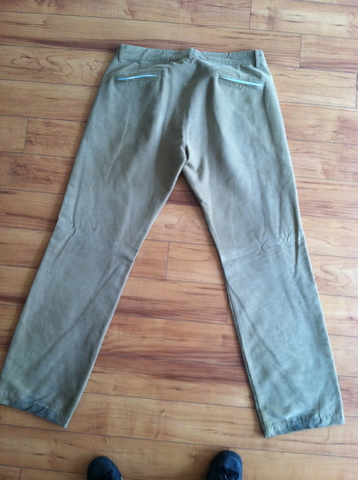 PRPS western flannel, size S -- $30 shipped. This is a beautiful yellow, burnt orange, red, and black ombre unbrushed flannel that's hard to appreciate in photos. I've worn and washed the heck out of it, and it has one small hole on the lower back along the seam. Two of the snaps also need to be repaired, they have come off their backing, but I will include them. Should be an easy fix. Chest p2p is: 20"
Vintage Karman lightweight western -- $25 shipped
p2p: 20"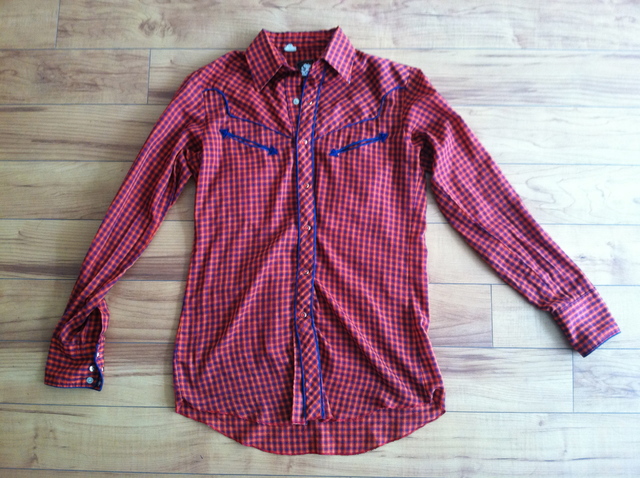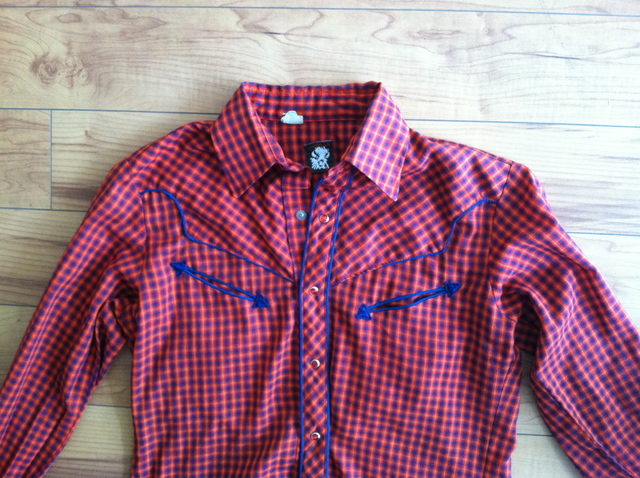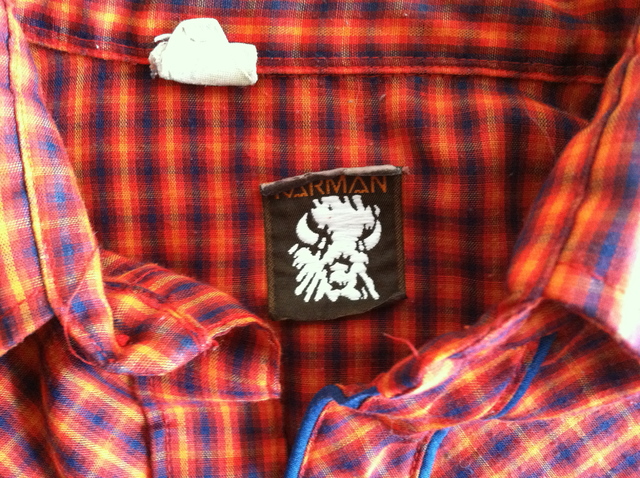 Belts handmade, by me, from recycled fire hose! $30 shipped, custom made to your size, 1 1/2" wide. Metal center-bar buckles with brushed-nickel finish, or black powder-coated heel-bar buckles available.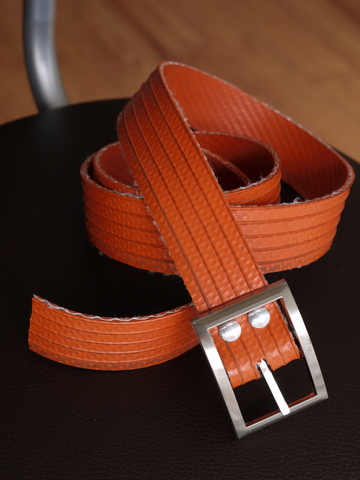 The items that include shipping will be mailed from Mexico City, via Correos de Mexico. Their regular delivery service sometimes takes a few weeks, but always arrives eventually. If you prefer to use MexPost, which is their version of priority mail, shipping will be a bit more expensive.
Thanks for looking!